Or, How I found myself at the top of a cliff in a strange country holding a bird in my hands.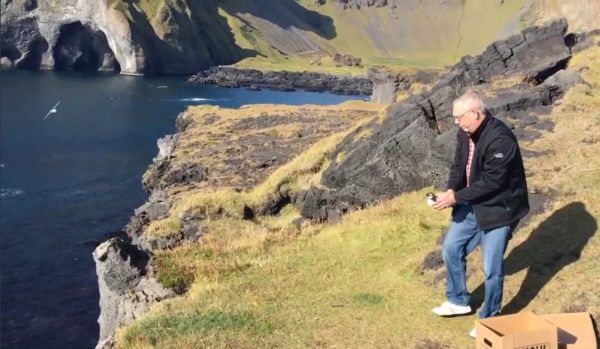 Puffins are true sea birds – the first thing young puffins do when they leave their cliffside nests is fly out to the ocean. They live there for three years before they ever come back to dry land, floating and diving for fish. They have to be in the water to survive, and they have only one chance to get there. Young puffins ("pufflings") that land on the ground are doomed because at that age they can't get airborn again. They will die from starvation or predation unless humans rescue them and get them to the sea.
This happens in a number of places around the North Atlantic, but Ground Zero for puffin rescue is Vestmannaeyjar, Iceland. This is a town of about 4000 on a little island just south of "mainland" Iceland, which has perfect seaside cliffs all around it. Puffins by the millions dig burrows above the cliffs, and in late August/early September the pufflings venture out of their burrows in the middle of the night. They step over the cliffs and fly for the first time, heading toward the light of the stars and moon, and landing on the water.
Unless, that is, they get distracted by the lights of the town, fly in the wrong direction, and land on the ground. Thousands of them will land in the town and need rescuing, and the town has embraced this task. Every night during this time, everywhere you look, people will be driving around slowly or walking with flashlights, looking for lost pufflings.
My wife learned about this many years ago from a children's book, Nights of the Pufflings. She's been entranced by the idea ever since, and we decided it was time we went there and helped out. So we spent the first week of September in Vestamnnaeyjar, along with one of our nieces who wanted to help (and didn't mind missing a week of Senior Year).
The Hunt
We headed out every night at 11 or midnight, armed with flashlights and cardboard boxes, and spent two or three hours poking around. We looked in a lot of places, but spent most of our time around the golf course west of town. It's near some cliffs and there are lights along the road that attract the pufflings. We'd find the little guys wandering around the course, or in a sand trap, or huddled by buildings. We had to chase and grab them. This isn't easy – they can't fly off the ground, but they can flap their wings and run pretty fast! This is where it helped having a 17-year-old along. When we did catch them, we'd put them in the cardboard boxes for safekeeping.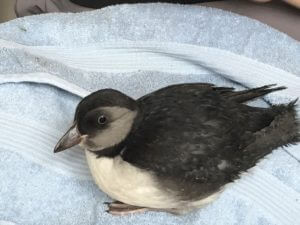 They didn't like being in the boxes! Some of them scratched at them and fluttered and did their best to get out. We had to tape the boxes shut to keep them in.
Only once did we fail to find any, and even then natives who had more than they needed gave us a couple (pity puffins)! We didn't know that puffling sharing was a thing, but it is. The most we found was 14 in one night, and we gave one of those away to a little girl who was out with her grandfather. Our niece saved one from a cat who was stalking it. All told, we found about 50 pufflings during the week.
The Check-in
A local science museum, part of the Sea Life Trust, measures and tags the pufflings to gather data. So the day after the hunt, we would take our boxes down to the center, along with all the other people. Staff and volunteers would weigh the pufflings (usually 250–300 grams) and measure the last segment of their wings (40–50 mm). A selection of the pufflings got a leg tag.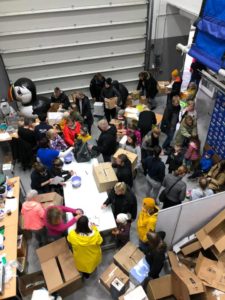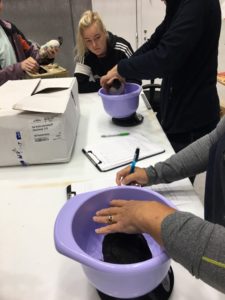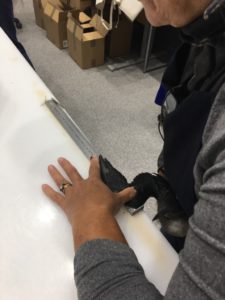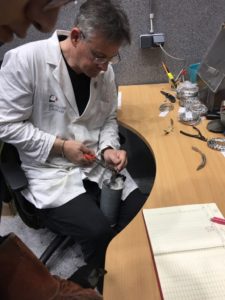 One day they processed 812 pufflings, and the total this year is over 7,000, the most since they've been doing this.
After the pufflings are processed, children (and adults) can pose for pictures with them.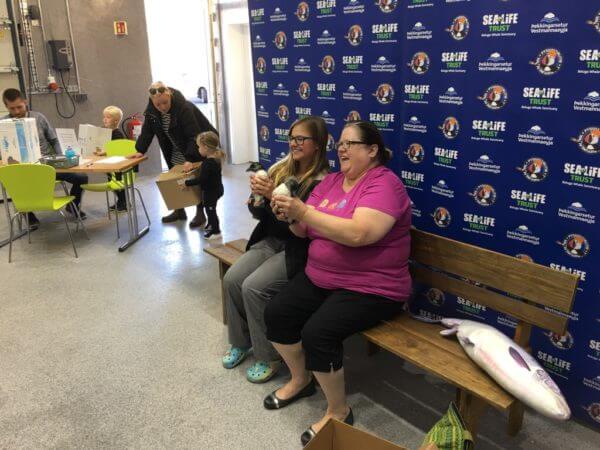 You can see these on their Facebook page – lots and lots of pictures of little blonde children proudly holding the puffins they saved. (Note most of the text is in Icelandic!)
The Release
Then it's time to release the pufflings and get them into the ocean, which means taking them to a cliff and tossing them over the side. We released most of ours by that golf course – sometimes there was a line of families with boxes of birds and we had to wait our turn. When we did this, the wife and niece decided that we had to give each bird a name and announce it during the release, so I said things like, "This is Dumpling!" as I tossed mine.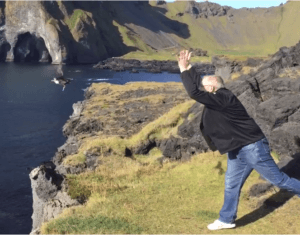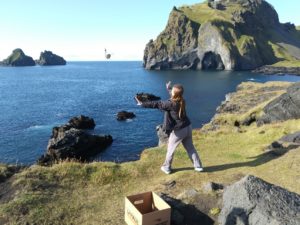 Standing a couple of feet from a sheer cliff and tossing pufflings is a little scary, and it's even scarier to watch little children do this, but the parents hang on to them and no one went over the edge with the birds while we were there. A couple of times people stood too far back and failed to get the pufflings over the edge and they landed short. But the birds knew what to do – they walked over to the edge and jumped off. It actually made me wonder why we were throwing them – couldn't we just set them down at a safe distance (for us) from the cliff and let them figure it out? But there's no arguing with tradition, so the puffling toss continues.
The wife wants to go back another time and do this again. I kind of feel that once is enough. We'll see.
If anyone wants to go next year and pay for a guide, I know where to find one!
Last year the BBC did a report on this, which is pretty good except for the usual alarmism. The BBC was there again this year and interviewed my niece, but I can't find the video online. If I do, I'll update this.
By the way, one funny thing about puffins is that the little ones look nothing like the adults, with their colorful beaks and somewhat comical appearance: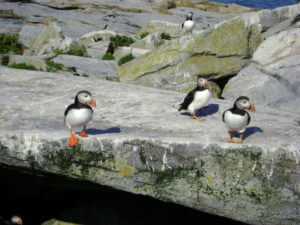 Published in General