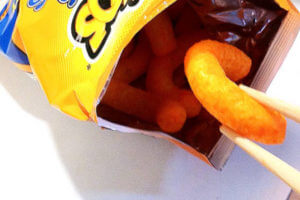 Chopsticks are, in a general manner, inferior to the fork. Forks are more effective over a wider range of food, and they're easier to master as well. Really in this day and age, the major reason to learn chopsticks is to look sophisticated. You don't want to look like a dolt in front of your friends. So I'm using chopsticks to eat Cheetos.*
Cheetos are pretty much on the opposite end of the sophistication spectrum from sushi.** If you learn chopsticks to look suave in one of those swanky Japanese restaurants that's one thing. You simply can't look debonair eating bright orange cheese puffs. So why bother with the chopsticks? Aren't they a finger food? They are if you don't mind leaving blaze orange fingerprints everywhere.
Once you've determined you need to avoid orange gunk on your digits you've got to settle on an implement. Forks are inferior to chopsticks in this circumstance; neither the scooping action or the stabbing motion do you much good. Chopsticks, on the other hand, can pick up puffs one by one, with great accuracy. You're rate-limited by the speed you chew in either case.
When you notice the pattern you see examples of it everywhere. @GaryMcVey gave us a description of an earlier version of color TV that never took off. And yet that finicky and expensive technology got sent to the moon. Because, however expensive it is, that cost pales against the great mass of rocket fuel you'd have to burn to launch it into orbit. Ever hear of gorilla glass? It was mostly an oddity until Steve Jobs was looking for something to use as an iPhone screen.
What can we learn from this? Couple lessons. First, the criteria used to judge which technology is superior is necessarily dependent on the background assumptions under which it's evaluated. Secondly, and as a consequence of that, one ought to be constantly reevaluating the conditions under which those assumptions apply. Thirdly, to find one of these situations where the rejected line might actually be superior you have to reevaluate both the status quo and the alternatives. Which implies (fourthly) that the kind of guy who's going to discover these opportunities to innovate is going to necessarily be familiar not just with the stuff that works, but the other things people have tried which don't work.
And finally, I can learn how to use chopsticks by practicing on Cheetos. I mean, I don't want to look like a yokel any more than I already do.
---
* I picked up this idea from someone in the PIT. Don't rightly remember who, but I suspect @qoumidan . With the revolver.
** I bet if I made sushi out of cheetos, twinkies and Big Mac sauce… yeah, that'd be terrible. Further research is required.
Published in Science & Technology