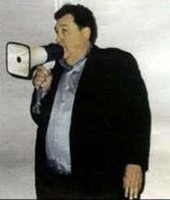 Blue were the skies that early September day.
Silver gleamed the towers in the morning sun.
Dark arrows streaked towards their gleaming targets.
Orange and red were the angry blossoms, set off with black billows.
Then came the white flurries, showers of paper, last works of thousands.
As the orange and red blossoms unfolded, a new drizzle, unspeakable, started.
Red, blue, and white flashed the lights, rushing towards the towers.
Dark garbed figures, marked by safety yellow bands, formed and advanced towards the bright blossoms.
Another dark arrow found its broad, five-sided white and red brick target, and another orange and red blossom blooms.
Uniforms of many hues scrabbled to help each other.
At last the early orange and red blossoms, and silver gleaming towers, were swallowed by the earth, belching forth a choking grey cloud.
Green was the field, furrowed by the last dark arrow, marking ordinary Americans' extraordinary victory.
Red, white and blue rose the star spangled banner in the late afternoon light,
O'er the land of the free and the home of the brave.
Published in Group Writing