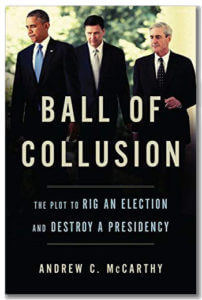 "Know what I was most proud of?" former Vice President Joe Biden said last week during a campaign event. "For eight years, there wasn't one single hint of a scandal or a lie." Or from "The View," "not one single whisper of scandal."
Both of these are fairly recent quotes from Vice President Biden – and of course, they echo the Obamas saying there wasn't a "smidgen" of scandal in his administration.
I am about halfway through reading Andrew McCarthy's book Ball of Collusion. If you have been keeping up with everything to do with "Russian collusion," it is sort of overkill, but it does fill in a lot of the details. One thing I had not known of is the extent of the Obama administration's meddling in the Israeli election using the same techniques that later were used against Trump.
From pages 72 and 73 of the book:
"At some point, the administration weaponized the NSA's legitimate monitoring of communications of foreign officials to stay one step ahead of domestic political opponents," says a pro-Israel political operative who was deeply involved in the day-to-day fight over the Iran Deal. "The NSA's collections of foreigners became a means of gathering realtime intelligence on Americans engaged in perfectly legitimate political activism—activism, due to the nature of the issue, that naturally involved conversations with foreigners. We began to notice the White House was responding immediately, sometimes within 24 hours, to specific conversations we were having. At first, we thought it was a coincidence being amplified by our own paranoia. After a while, it simply became our working assumption that we were being spied on." Smith elaborates: This is what systematic abuse of foreign-intelligence collection for domestic political purposes looks like: Intelligence collected on Americans, lawmakers, and figures in the pro-Israel community was fed back to the Obama White House as part of its political operations. The administration got the drop on its opponents by using classified information, which it then used to draw up its own game plan to block and freeze those on the other side. And—with the help of certain journalists whose stories (and thus careers) depend on high-level access—terrorize them.

This is the Russia-gate scenario to a tee: Political spying under the guise of legitimate national security monitoring. Subterfuge by the Kremlin is incontestably a legitimate basis for intelligence collection—a compelling one, in fact. Yet, even a compelling rationale can be used pretextually.
I guess the operative word was "single."
Published in Group Writing