Yesterday walking in Baltimore's Inner Harbor, I noticed a crowd of people standing around what I thought was an art installation at first. As I got closer to the mangled metal, I read what I immediately recognized as The Timeline: the exact minutes the planes hit the towers, and the exact minutes the towers went down. On the other side, a collection of names and birthdays, all with the same day of death. I realized I was standing in front of the Baltimore World Trade Center, and this was a memorial to the Trade Center in New York City.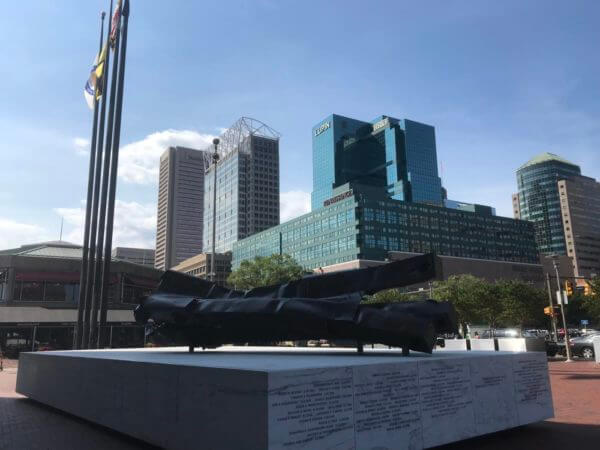 My kids asked me if we were standing in front of a memorial to a war of some kind. We live outside of Washington D.C. and they see a lot of those. We all stand around talking about the history of the war, emotionally disconnected from its painful reality. That's not to say I don't appreciate and honor the sacrifice, I just don't have a personal connection to anyone who died in conflicts that ended decades before my birth.
I never realized that's how I stood in front of memorials until yesterday when I saw that disconnected look on the faces of my children. They were interested in the memorial, to learn about what had happened, but to them, it's just history. They never heard the announcement go through their school's PA system about the attack, they never snuck into the teacher's lounge to watch the only TV in the building connected to network television. They never sat next to their teachers sobbing, watching as the towers crumbled down. They never spent the night calling all of their relatives living and working in New York City (and often in the Trade Center itself), trying to get through jammed phone lines, wondering if they were still alive. To them, the fall of the towers will always be history.
It made me think about how arbitrary time is, how events in the past can be perceived so radically differently over just the course of a generation. I remember my mother's painful memories of Vietnam, my grandfather's memories of the Second World War. We always say Never Forget when it comes to 9/11, but seeing my kids' reaction to the memorial made me realize just how inevitable that forgetting will be.
Published in General