Yes, this week I'm talking about everyone's favorite advertisement delivery service. Until I moved to Texas, I got my mail from a cheap metal box in front of my house. I moved here and discovered the community mailbox. Instead of stopping at each address, the postal worker puts your mail into a locked box located in a structure on the street. This is certainly a lot more secure and efficient than the individual boxes. Mine is only about 100 feet from my front door, so it's no big deal to collect the mail: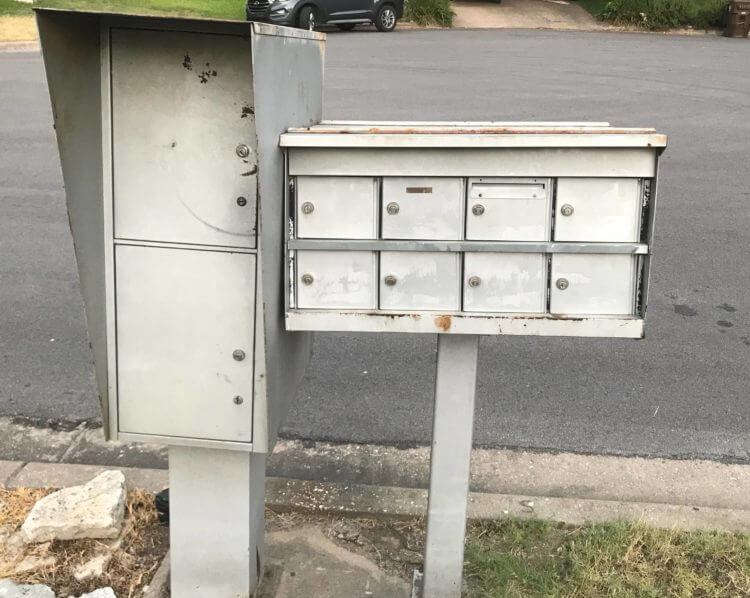 I've been getting my mail from this structure for the last 16 years. It's pretty sturdy, but I don't think any maintenance has been done on it since I moved in. The boxes have plastic gaskets around the doors, but sixteen brutal Texas summers have worked their magic. After every rain, I notice that the flyers and credit card come-ons are damp before I toss them. The large boxes on the left side of the structure are for packages. The mailperson locks the package in that box, then puts the key in your mailbox. It's a pretty simple and effective process, except…. The locks on the package boxes have gotten stiffer and stiffer over the years. Maybe that's why the key has broken off in the lock of one of them. It's been like that for more than a year.
I originally got three mailbox keys when I moved in. Over the years, two of the keys have disappeared. I tried to get copies made, but found out it's illegal to duplicate them. Then, last week, I lost the final key. This necessitated a trip to the Post OfficeIGA.
"Hi, I lost my mailbox key and need a new one."
"OK, we'll have to change the lock, that will be a $25 fee."
"Yea, I figured that would be the case."
"I need a picture ID and a piece of first-class mail with your name and address on it."
"I don't have any mail. I can't get in the mailbox."
"How about a rental agreement."
"I own the house."
"You don't have any paperwork?"
"The bank has it."
"Well, you'll need one of those things before I can give you a new lock."
I was somewhat frustrated at this point, thinking that I needed to go back home and dig up either a piece of mail or my mortgage papers. Then I had an idea–I pulled my registration papers out of the glove compartment. They had been mailed and had my name and address on them. It worked! I was then told that it would take up to a week for the new lock to be put in place.
Now I'll admit that I'm a careless idiot who lost all my keys, but I bet I'm not the only one. I'm sure that other people had needed a new lock and had come in without mail or a rental agreement. I'd also guess that a high percentage of those people had driven there. Was I the first to figure out that you could use your registration?
I thought maybe I should have gone online to the USPSIGA website; then I might have known what to expect. Nope. While the website is on the bleeding edge of internet technology, circa 2000, the requirement for mail or a rental agreement was not mentioned. Neither was the one-week wait to have the lock replaced.
Anyway, the lock was replaced in only three days. I have three brand-new shiny keys which I very carefully put in three different secure places, and which I'll eventually misplace.
On the same day, I couldn't find my mailbox key, I also discovered a crack in my car's windshield. My wife got on the phone while I was driving and made an appointment. We went to the gym, had lunch, then drove to the windshield place. Less than three hours after I first noticed it, the windshield was fixed. I don't know why I mentioned this; it has absolutely no bearing on the rest of the post.
Published in Humor