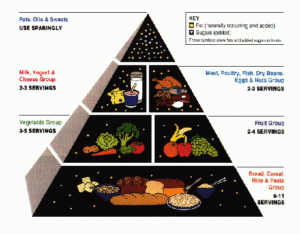 Mulling over food color themes from Red, White, and Blue Labor Day U.S.A. and Colorful Cooking, a family food memory came front of mind. The tale has long been told of an important family dinner. It was one of those occasions when the prospective new family member meets the prospective parents-in-law. One of my aunts had come to my maternal grandparents' home, and was seated at the family table when it happened.
All heads were bowed as my grandfather completed the prayer of thanksgiving and blessing over the meal. Suddenly my aunt heard a loud gasp from her mother-in-law-to-be. My aunt thought "Oh no, I've just met her and she's having a heart attack!" Then she heard my grandmother exclaim in dismay: "There's no green vegetable!
Mind you, there were surely at least two breads: a nut or cranberry bread and dinner rolls, but "there's no green vegetable!
There were assuredly at least two salads, likely three: green, fruit, and bean, but "there's no green vegetable!
There were potatoes in some form, and possibly yams, but "there's no green vegetable!
There were two or three homemade relishes, but "there's no green vegetable!
There was more meat that would be eaten, and possible two kinds, but "there's no green vegetable!
There were tomatoes, grown in the garden, corn, perhaps carrots, and likely beets in some form, but "there's no green vegetable!
Off on the side board were at least two desserts, but "there's no green vegetable!
My grandparents came from old farming stock, with family centered on Pennsylvania and Ohio. They married in the Depression. They, and their children, did not become obese, despite having indoor jobs in the professions. And, they set a groaning table for visitors, including family.
As a young college man, running six miles a day and working out for college fencing every day, I showed up at my grandparents for a visit. I was an extremely lean and mean 145 pounds on a 5 foot 10 frame. Naturally, they decided I was malnourished and sought to immediately remedy this.
As we sat at the table, my grandmother watched my plate for the opportunity to ask "would you like some more [potatoes/meat/vegetables]?" As I was getting a polite demurral from thought to speech, I was command overridden by my grandfather. "Why of course he needs more!" came the voice, perfectly synchronized with arms smoothly maneuvering the serving dish and serving implement, depositing another generous portion on my plate. You've never seen a better tag team, not even in the WWE!
As the years went on, my grandmother went home first and my grandfather cooked for himself and then his new bride, a wonderful woman we grandchildren were proud to call Grandma Fran. Grandpa, a rubber chemist whose ideas for hose production are still used today, including in your car. He took a practical approach to food when he was preparing it, and developed a tasty, nutritious stew.
I enjoyed his stew for supper on my last visit with him and Grandma Fran. It was made of diced beef, potatoes, and vegetables, lightly seasoned. Yes, it had green peas. There was a green vegetable!
Published in Group Writing