On Saturday President Trump sent out a series of tweets that acknowledged that he had planned to meet this past weekend at Camp David with the leaders of the Taliban and the President of Afghanistan, Ashraf Ghani, to engage in peace talks. When it was rumored in the past that President Obama sought such talks, private citizen Trump was highly critical. Something has obviously changed his mind.
Wrote the President, "Unbeknownst to almost everyone, the major Taliban leaders and, separately, the President of Afghanistan, were going to secretly meet with me at Camp David on Sunday. They were coming to the United States tonight. Unfortunately, in order to build false leverage, they admitted to an attack in Kabul that killed one of our great great soldiers, and 11 other people. I immediately canceled the meeting and called off peace negotiations. What kind of people would kill so many in order to seemingly strengthen their bargaining position? They didn't, they only made it worse! If they cannot agree to a ceasefire during these very important peace talks, and would even kill 12 innocent people, then they probably don't have the power to negotiate a meaningful agreement anyway. How many more decades are they willing to fight?"
That great military mind, David French (did you know he served as a JAG lawyer in Iraq?), responded: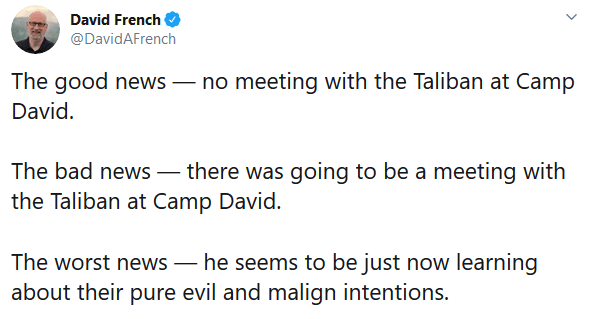 These kinds of tweets, cheering on the collapse of talks, drew a response from former Ricochet editor Mollie Hemingway. "Disappointing,' she wrote, "if unsurprising, to watch the swamp seek to extend the War in Afghanistan, which is nearing its 18th – 18th! – anniversary."
We will soon see young men and women enter boot camp for our armed forces who will be asked to fight in a war initiated before they were even born. They will be asked to fight, perchance to die, but even after 18 years they will not be asked to win it. Because those who refuse to negotiate are the same people that also refuse to define victory.
In August 2017, French praised Trump as learning on the job that there were to be "no more Saigons." And he also wrote, "As should be obvious by now, when fighting a militaristic theological movement conventional military 'victory' simply isn't attainable. While there may be political settlements in given regions at given times, there won't be a USS Missouri moment with al-Qaeda, ISIS, or any successor jihadist group."
Was it only obvious two years ago? Or should it not also have been seen and clearly articulated 16 years before that? And how do you achieve French's suggested "political settlement" if there is never, ever, ever to be negotiations?
Americans, unlike their European ancestors, have never sought empire. If we could state the nation's philosophy of military engagement, in a nutshell, it would probably be nothing more complicated than "Get in, kick ass, come home."
There was not a man, woman or child in America that did not fully support George W. Bush in the days following 9/11. But his legacy seems to be that he doomed us to the curse of the endless war. We have had the burden of Empire thrust upon us whether we asked for it or not.
Published in General