"In literature, too, we admire prose in which a small and astutely arranged set of words has been constructed to carry a large consignment of ideas. 'We all have strength enough to bear the misfortunes of others,' writes La Rochefoucauld in an aphorism which transports us with an energy and exactitude comparable to that of a Maillart bridge. The Swiss engineer reduces the number of supports just as the French writer compacts into a single line what lesser minds might have taken pages to express. We delight in complexity to which genius has lent an appearance of simplicity."
– Alain de Botton, The Architecture of Happiness
I ran across this quote while developing a list of potential quotes for discussion. Since I'm in the middle of designing my third house, I appreciate the views of other architects and artists as to what is "good" vs. "bad" architecture. I've found the British author Alain de Botton's book interesting, as he relates architecture to various other art forms, most notably common items such as bowls, plates, and water jugs. He properly criticizes architecture based on elitism and the self-congratulation of architects such as Le Corbusier, whose flat roofs leaked within one week of being occupied. Yet, de Botton properly related Le Corbusier's 1931 interior staircase to a 1768 design in Versailles nearby. Even Modernist architects looked to architecture to support a way of life that appealed to them.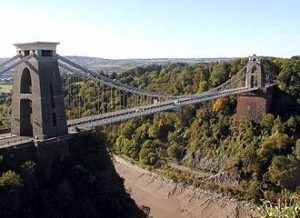 Most anyone would see the Robert Maillart designed 1930 Salginatobel Bridge above as beautiful. It was designated as an International Historic Civil Engineering Landmark by the American Society of Civil Engineers in 1991. Like many breakthrough designs, it lacked durability, such as bridge deck waterproofing, low concrete coverage, and poor drainage, which led to extensive repairs in 1975-1976. Unfortunately, de Botton compares this bridge to Isambard Brunel's 1864 Clifton Suspension Bridge in Bristol, England. Yes, Brunel's was crude, but it has stood the test of time, and led the way to the beautiful 1883 Brooklyn Bridge.
Nevertheless, de Botton's book is a quick, thought-provoking read. Near the end of the book, de Botton summarizes his major themes:
The failure of architects to create congenial environments mirrors our inability to find happiness in other areas of our lives. Bad architecture is in the end as much a failure of psychology as of design. It is an example expressed through materials of the same tendency which in other domains will lead us to marry the wrong people, choose inappropriate jobs and book unsuccessful holidays: the tendency not to understand who we are and what will satisfy us….

The places we call beautiful are, by contrast, the work of those rare architects with the humility to interrogate themselves adequately about their desires and the tenacity to translate their fleeting apprehensions of joy into logical plans – a combination that enables them to create environments that satisfy needs we never consciously knew we even had.
So how should we evaluate buildings and structures throughout the ages? Are there famous buildings (such as the Sydney Opera House, Fallingwater, Le Corbusier's Villa Savoye, etc.) whose value is diminished by roofs that leak? Does long-term practicality trump immediate notoriety? What "modern" buildings will be celebrated over 100 years from now?
Published in General