From a very young age, and well into my adult years, I didn't think I was creative. I wasn't into craftsy things. My efforts to sew my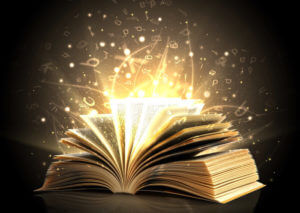 clothes did not go well, and my knitting products were a mixed bag. At one point I wrote poems on my parents' Royal typewriter. I wrote one poem about a bull, and have no memory of what I wrote, but at the time I had apparently mixed up bulls and cows. My parents were amused and explained the difference. I felt embarrassed by my mistake, and for a while I stopped writing poems.
But writing seemed to call to me. I certainly loved to read the writing of others. Most of my writing efforts were pretty straightforward. I've always been a left-brained, linear thinker, so that's how I wrote. My writing is workman quality.
In high school I took a creative writing course. I wrote about a murder that had happened next door to us; the man had murdered his wife with a knife. I hadn't witnessed the act, nor seen the results, but my brother had entered the house afterward and was devastated. The children were bewildered and lost. I wrote about their reaction. The piece was put in our annual creative writing magazine. But I considered the acceptance as a fluke; I still didn't see myself as creative.
During my college years. I was an English major, and received a "D" on my first paper. I was embarrassed and confused. So I asked the instructor if I could meet with him—not to accuse him of under-grading me, but to find out what had gone wrong. He was very kind and supportive, and I don't remember his advice, but I suspect that I applied it to all my future papers, as well as to essays I wrote for other classes. It was a turning point of sorts. (As a side note, I switched to a major in history.) But I still didn't think I was creative, and told people that they couldn't count on me for creative ideas.
As a business woman, I wrote various articles that were published in human resource publications, police publications and other small magazines. By reproducing them they became marketing tools for my business. They were well-received, but I still didn't think I was creative. These articles were, after all, practical pieces.
I was moved to write a book on religion. (The author listed is another Susan Quinn; I've written to Amazon.) This book was a turning point for me. I was now a genuine author! I began to think that I might be creative after all. I was also asked to provide an essay on forgiveness for a leadership book. Maybe people were taking me seriously. (Have you noticed what a hard sell I am?)
Then I found Ricochet. I fell in love—with writing, with getting feedback, with engaging in dialogue on important issues. And another writer on Ricochet, @iwe, asked me to partner on books on Judaism—me, a returning Jew.
I was finally convinced I was creative.
Recently the topic of creative acts has come up in my writing with @iwe: what does it mean to be a human being who continues G-d's original act of creation? @iwe believes that when we create something completely new, something that G-d has not already created, we are following in G-d's path; I agree with him. We also think, however, that creativity is a process. That we may be creative in many different ways, and when we work to be creative, the more creative we become. Some people seem to have the temperament for creativity; others (like me) have to work at it, pursue it regularly, refine it, and keep trying. I believe that G-d is happy when I write, especially with Him in mind, but am I continuing His original creation?
So I have a bunch of questions for you—do you see yourself as creative? How do you express your creativity and in what arenas? And do you see your role in continuing G-d's creation?
Published in Culture