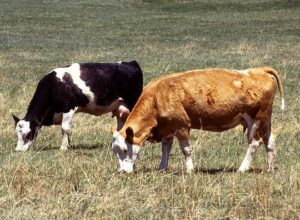 You've probably heard the "two cows" joke comparing different political and economic systems. Here's where the 2020 presidential candidates fit in:
Michael Bennet, Julián Castro, John Delaney, and Wayne Messam: You have two cows. Not even they know who you are.
Joe Biden: You have two cows. You milk them a bit too enthusiastically.
Cory Booker: You have two cows. They spend all their time trying to convince you they're just like that bull you bought back in 2008.
Steve Bullock: You have more acres than any farmer, but no cows actually live there.
Pete Buttigieg: You have two bulls. They marry each other.
Bill de Blasio: You have eight million cows. None of them can stand you.
Tulsi Gabbard: You have two cows. They gas all your chickens, but you stand by them anyway.
Kamala Harris: You have two cows. You get thrown in jail for forgetting to donate their milk to the school lunch program.
Amy Klobuchar: You have two cows. You get angry at them for not getting a fork for your cheese curds and try to sabotage their efforts to find another farm.
Beto O'Rourke and Joe Sestak: You have two cows. You show them at the county fair and come in second. They spend three weeks walking around your ranch and decide they want to compete at the state fair.
Tim Ryan: You have one old cow from San Francisco. You try to replace her, but it doesn't work. You realize she won't let you get anything done now, so you try to start a new farm in Iowa.
Bernie Sanders: You have two cows. You realize it's more difficult to market your milk when there's more than one other farmer in town.
Tom Steyer: You have two cows. They pass gas. It destroys the world.
Elizabeth Warren: You have two cows. You charge people $50,000 for the milk, and then demand the government forgive their debt.
Marianne Williamson: You ask, who am I to have two cows? Actually, who are you not to have two cows? You are a child of God. Your playing small does not serve the dairy industry. You were born to make manifest the glory of milk that is within your cows. It's not just in some cows; it's in all of them. And as you let your own milk curdle into cheese, you unconsciously give other farmers permission to do the same.
Andrew Yang: You have two cows. A tech bro convinces you almond milk will soon make them obsolete, so you demand the government guarantee them a basic income.
And, finally…Donald Trump: You have two cows. You sell one and buy Greenland.
Published in Elections