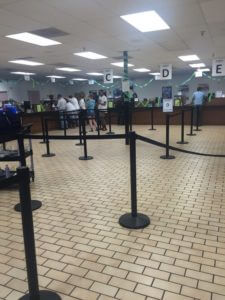 I had to renew my driver's license at the MVD Friday morning. I know what you're thinking. But you know, it was not terrible! I arrived well-armed with my online fillable PDF application in hand, two utility bills in my name, my 2018 W-2 (as I long ago lost my SSI card), my birth certificate (which says I was born in Danville, NH, when in fact I was born across the border in the Hale Hospital in Haverhill, MA), my old license, and a credit card.
The place had that worn-out 1960s feel: beige, brick, steel, glass, fluorescent lighting, and dropped ceilings. Overlapping queues to nowhere circled the center of a large room funneling folks to an opening where one of the clerks commanding a surrounding cubicle could call you to a vacated spot. There were no chairs; gone was the intercom announcing random assigned numbers and cubicles. There was actually a "pre-queue" where you waited for an initial clerk to ask your business, glance over your paperwork, and red-card anyone not fully prepared to survive all the required box checks. It was that clerk who took my picture – a shockingly ugly photo even by my low standards, but it would do.
Once through a second, longer winding queue that encompassed half the building, another clerk made quick work of the task at hand. In less than five minutes, I had a copy of my new license (the actual license would follow in the mail). The entire experience took maybe 20 minutes. And my new license, which meets the new federal standard for domestic flight ID, cost just $25. It's good for five years.
I must say, it was fast, efficient and cheap. One can ask no more of government than that.
Published in General