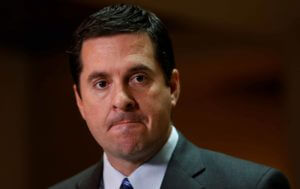 Finally, someone is fighting back against the Trump-Russia hoax. I'm not surprised that the person who's made this decision is Rep. Devin Nunes. You can review the complaint here. Nunes is suing, "alleging conspiracy to obstruct investigations into Russian interference in the 2016 election."
He discovered the funders of the Steele dossier through his own efforts; many organizations had a hand in this effort. According to the Daily Caller,
The Campaign for Accountability filed complaint against Nunes with the Office of Congressional Ethics. In a Jan. 25, 2018 complaint, CfA accused Nunes of leaking sensitive House Intelligence Committee information about Fusion GPS.
Nunes also made the following claims:
[He] contends that Fusion GPS and Simpson have also retaliated against him for fear that the Republican would submit criminal referrals against Simpson over testimony he gave HPSCI and the Senate Judiciary Committee in 2017.
I laud Nunes' courage on making this complaint for a number of reasons:
He is taking responsibility for holding accountable the organizations who not only tried to slow down the investigations, but in the process were willing to defame him. Not too many people in the political environment are making the protection of their reputation a priority. He may not be successful if he tries to sue governmental bodies, but Fusion GPS should be vulnerable.
He sets an example for the many other people who were manipulated and defamed in the Trump-Russia hoax. Although Carter Page and George Papadopoulos didn't always make the wisest decisions and were clearly self-promoting, they did not deserve to be dragged through the mud by these various organizations. Again, these men may have difficulty in suing for the actions that were taken against them, but they should at least be compensated financially for the attorney fees and the attacks on their reputations.
Perhaps Nunes' actions will provide some incentive for others to sue those involved. Many companies were involved in this debacle and may be ripe for the pickings.
The DOJ may take notes that although they may not be willing or able to hold their own accountable, other people will act. I don't know if these agencies are protected from lawsuits; if anyone can provide insight on the rules and regulations in this regard, I'd appreciate it.
I don't know how he's found the financing for what will likely be a long and difficult suit, but I'm glad he did. Thank you, Rep. Devin Nunes, for stepping up and taking action. As he said in the complaint, in part:
Defendants' corrupt acts of racketeering are part of their regular way of doing business. That way of doing business must end here and now.
Published in Politics