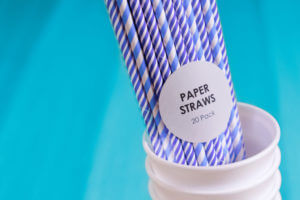 I was reading a twitter thread last night started by a film critic whose work I admire and enjoy. Occasionally he gets political. This time he really booted the hornet's nest, asserting that "paper straws are fine, Unless you gnaw on them or manhandle them, they last a long time. Plastic or metal straws *should always be available upon request, no questions asked.* But paper should be the default."
This is a moderate liberal position, no? To save the earth, which is choking to imminent death on plastic, we should move to paper straws, but permit the use of plastic with no opprobrium attached to the moral stragglers or those who require a stiffer means of conveying liquids to one's mouth.
He quickly added that he knew this tweet would be "moral quicksand," and added that "it should be illegal to deny somebody plastic or metal straws on request, or even ask them why they want it."
I don't know if I could sum up the dying personality of old-style liberalism any better. Here is a good thing we must hasten into being: the replacement of a paradigm on behalf of a moral cause, with a carve-out for individuals who do not subscribe to the cause, plus the fabrication of a brand new crime: it shall be illegal to deny anyone a plastic straw, or inquire why they want it. 
In other words: a new law on the books, never enforced, never brought to court, but a law nonetheless proscribing behavior that was previously not subject to the gaze of the State. This is the sensible liberal position.
There was indeed pushback, and he clarified he is indeed anti-plastic, and advised that we call plastic straws "Single Use Plastic Straws," to underscore that "the plastic industry trained us to be OK with that." As if the plastic bendable straw had no particular distinctive virtues, and we all shifted our behavior like Pavlov's dogs.
He anticipated additional criticism coming from the left by noting that his family had already shifted to metal straws. The first reply to his thread noted that paper straws were bad at penetrating plastic lids, whereupon he noted that "if the opening in the lid is circular instead of an X shape, there is no problem. This is a design compatibility issue not a paper straw issue."
At this point I'm thinking we need Federal guidelines for plastic-lid penetration apertures, with a compliance division empowered with levying the appropriate penalties, right? 
The thread promptly descended into an argument about disabled people not getting their requests for a plastic straw fulfilled, and how disabled people are "so upset that abled people are unrelentingly pushing this," which caused the OP to fume that he was tired of abled people using disabled people as rhetorical human shields to hold on to their plastic straws. Bitter clingers, I guess.
A new player entered the thread, and talked about reusing plastic straws, cleaning them with hot water. The OP said he would be "OK with restaurants using thicker plastic or rubber straws and treating them as utensils that are washed and used again."
At this point you dearly hope someone enters the convo and questions the carbon impact of using hot water to clean the straws, but no. The OP notes that any place that sells milkshakes should have metal straws available, and again – what's the carbon impact involved in mining, refining, and cleaning those metal tubes? 
For some people, you suspect, it is very very important to patronize a cafe that has a sign by the register that says they do not use plastic straws but will provide one on request, because that is the moral thing to do but also the compassionate thing to do, and if there is a LAW backing it up, all the better: LAWS are Fair and Just, and the fact that it's all a meaningless trivial matter is irrelevant, and they never believe that this template can be applied to everything in their lives. 
It's particularly rich coming from a film critic. Do we really need big rooms heated with fossil films to see movies, when there's streaming? Do we really need movies at all? Do you know how much energy the generators needed for a nighttime shoot require? If it's so dire that we have to rethink straws NOW, why are we okay with people driving cars to theaters?
Yes, yes, that's silly. Reductio ad absurdum. But criminal penalties for inquiring about why one wants the desired type of drinking straw, that's totally sane. 
Published in Environment