Guess that makes me a "terrorist" by their definition. According to The San Francisco Gate:
The San Francisco Board of Supervisors passed a resolution on Tuesday declaring that the National Rifle Association is a domestic terrorist organization. The officials also urged other cities, states and the federal government to follow suit.

District 2 Supervisor Catherine Stefani wrote the resolution and shared her thoughts on the NRA with KTVU. "The NRA has it coming to them," she said. "And I will do everything I possibly can to call them out on what they are, which is a domestic terrorist organization."
I think the NRA should sue the city for slander. The hard-left wing of the Democrats seems determined to not learn the lessons of 2016, and to continue to treat their political opponents as mortal enemies. It's a worn-out phrase, but for the love of all that is holy: "This is how you got Trump. This is how you will re-elect Trump."
This is yet another exercise in dehumanizing "the other," and it seems this is increasingly the only thing the hard left knows how to do: brand your opponent as a "hater" or "terrorist," then try to ruin their lives merely for disagreeing with you. What they fail to grasp is that this sort of madness will, in the end, only generate a reciprocal madness on the Right, and this does not bode well for the future of the Republic.
Heck, even The Onion (which departed even-handed satire some time ago), has started to notice and mock the Left for its contempt and militancy.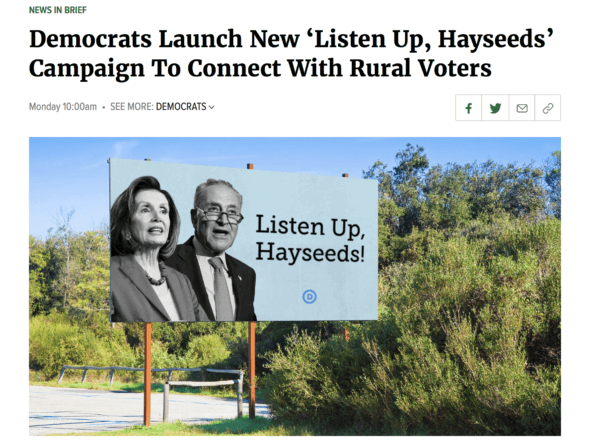 Not only will this action serve as a terrific membership drive for the NRA, but it will serve as a reminder that for the hard left, you are a criminal for not siding with them.
Every sane politician that still has a backbone should condemn this action and denounce it for the political repression attempt it is.
Published in Guns