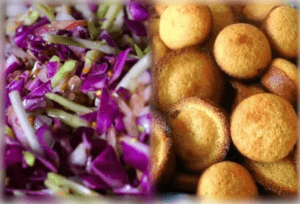 On Labor Day morning, I made a quick trip to my local grocery store to grab a few ingredients for two celebrations. For the first celebration, at my VFW post, hot dogs were the base. I signed up to provide Asian slaw and cornbread muffins. For the second celebration, a pool party at friends' house, I was committed to provide the Asian slaw as the veggie.
A bit more context:
Party 1. The VFW sign-up sheet resulted in:
deviled eggs (white and yellow)
potato salad (white potatoes and mayo)
spiral pasta salad (multicolored)
Italian sausage and pasta soup (red sausage and white shell pasta)
brownies
apple crumb cheesecake (golden)
(plus the hot dogs and my offerings)
Party 2: One foodie friend was grilling two sorts of sausage and another foodie friend was bringing an amazing dessert that is diabetic friendly, although loaded with heavy cream, so not good for those who can't handle lactose. A third friend reliably brought tortilla chips, salsa, and cheese dip.
Hey, this was almost healthy! Nobody was guzzling beer, as the host is off beer because of the carbs and sugar messing with his A1C levels (which he has under great control thanks to his wife completely changing their household menu and joining him in a very successful shift towards moderate daily exercise).
Back to Colonel Brown's kitchen:
Asian Slaw (green, purple, and white) —
Roughly shred and chop half a head of green, plus half a head of red, cabbage.

Rinse and slice 6 scallions (green onions), including most of the green portions.

Toss with:

1/4 cup vegetable oil
1/3 cup apple cider vinegar (I used unfiltered)
2 teaspoons of minced garlic (here I use minced garlic from a jar)
1/2 teaspoon powdered ginger
1 teaspoon low-sodium soy sauce
one packet of fake sugar (I used the pink packet)
a dash or so of salt
grind some black pepper over the bowl
two teaspoons of home-blended curry power (see below)*
Because there is no mayonnaise in the recipe, Asian slaw is lighter, crisper, tangier, and safer on a late summer day in the Desert Southwest. Look, it is great anywhere, and makes a terrific topping on vinegar-based barbecue, or as a side to a wide variety of other meats.
Cornbread Muffins (yellow with green diced peppers) —
I used my trusty red-and-white checked "Better Homes and Gardens Cookbook" as the base recipe.
I modified it in three ways:
Substituted light brown sugar for white granulated sugar (I had a box already open. Thanks to careful sealing, plus the monsoon humidity, I was able to massage the volume I needed loose rather than trying to turn a brick into granules.)
Added about two tablespoons of canned diced mild green chili peppers
Spooned the mixture into a mini-muffin (24-count) baking tin
There was enough left over for a couple of full-sized muffins, baked off at the same time in two Pyrex dishes.
I set out the muffins with softened butter and homemade lemon-orange marmalade. They went rapidly. The mini-muffin form was the right call, as it ensured everyone had a shot at one or more.
After Labor Day:
While dashing through the grocery store for Labor Day recipe ingredients, I spotted boneless thin-sliced pork sirloin chops. These were reduced for quick sale, so I grabbed 2-1/4 pounds worth. Late on Labor Day evening, I mulled over the possibilities and came up with this, assembled Tuesday evening:
Start steaming 1 cup of uncooked brown rice. (light brown)

Cube pork into 1/2-inch pieces. (Whitish pink, cooked to white)

Similarly cube one block of firm tofu for bulk. (white)

Season with (home-blended) curry powder*, powdered sage, fresh ground pepper, and a bit of salt. (golden-reddish mix)

Brown the pork with the tofu in batches, retaining all juices.

Stir in 4 tablespoons of homemade lemon marmalade and simmer on low heat. (dark golden)

Coarsely shred and chop 1/4 head each of green and red cabbage. Add on top of the browned pork and tofu.

Slice and add in 3 scallions.

Quarter about 1 cup of grape tomatoes, adding in. (red)

Stir and take off heat while the rice finishes steaming.

Stir the rice into the recipe.
Serve, refrigerate, or portion out for freezing. This is pretty much a one-pot/one-bowl meal, and just right for late summer into early fall meals.
* It turns out that curry powder, like Italian seasoning, is a blend of other herbs and spices. When I recently ran out of curry powder, I read the ingredient list on the spice jar, and realized I had most of the ingredients. I looked up a couple of recipes (Minimalist Baker and Curious Cuisiniere) and combined them for recommended proportions and ingredients. I did not have cardamom, so got an ounce or so of that. My results were more red-orange, in contrast to the yellow-orange store-bought blend. I suspect this indicates the commercial blend had more (bright yellow) turmeric. I like the home blend just fine. It has great flavor, and color, without excessive heat.
Published in Group Writing