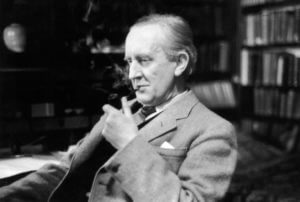 At the beginning of this year, I got an offer I couldn't refuse. Craig Hanks, who listens to the Remnant with Jonah Goldberg (on which I make furtive appearances) heard that I was reading The Silmarillion by J.R.R. and Christopher Tolkien. Craig happens to host his own podcast, The Legendarium Podcast, on which he and others discuss the great works of sci-fi and fantasy literature. He invited me onto his show to discuss The Silmarillion. You can listen to the episode here. 
Something strange happened when I distilled my thoughts about The Silmarillion in a post I published on Ricochet: All of Ricochet's various nerds came out of the woodwork and had a field day discussing this somewhat more obscure "prequel" to J.R.R. Tolkien's Lord of the Rings. A similar thing happened when I produced another post, about God Emperor of Dune by Frank Herbert, after appearing on one episode of the Legendarium (and later another) to discuss it. 
The revelation of an "undocumented nerd" community at Ricochet convinced higher-ups to bring this large, underserved population "out of the shadows" by bringing Craig's podcast here. And so here it is. Now the Legendarium's deep-dives not only into Tolkien and Herbert and the worlds they created but also their explorations of other, perhaps more obscure authors and worlds, are available via Ricochet. 
Please welcome Craig and the Legendarium with open arms, as kindly as you have welcomed me, my own podcast, and my explorations of nerdiness here. After all, they're even bigger nerds than I am, so they deserve that much more welcome from this great community.
Published in Literature