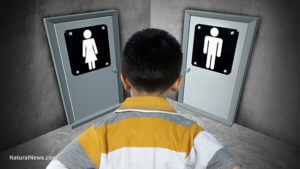 This past week The Federalist published an article that once again highlighted the damage that transgenderism has inflicted on our society. The article described an amicus brief that has been filed in the Supreme Court for the case R.G. and G.R. Harris Funeral Homes Inc. v. Equal Employment Opportunity Commission; the case will be heard October 2019. It described the powerful statements in an amicus brief from several individuals who acknowledged the devastation they had experienced in deciding to change their gender identity. In this post, I'm going to provide a summary of the original case, include some of their statements from the amicus brief, and also the impact of these types of beliefs on our children.
Here is a summary of the original brief:
Aimee Stephens (formerly known as Anthony Stephens) was born biologically male. While presenting as a man, Stephens worked as a funeral director at R.G. & G.R. Harris Funeral Homes, Inc. The funeral home owner and operator, Thomas Rost, terminated Stephens' employment after Stephens informed him she would transition from male to female and dress as a woman at work. Stephens filed a complaint with the Equal Employment Opportunity Commission (EEOC).

After investigating Stephens' claims, the EEOC charged the funeral home with violating Title VII of the Civil Rights Act of 1964 by (1) ending Stephens' employment on the basis of gender and (2) administering a discriminatory dress code policy.

The district court granted summary judgment to the funeral home, which argued (1) the funeral home's dress code did not violate Title VII, (2) enforcing Title VII and requiring the home to employ Stephens would constitute an unjustified substantial burden on Rost's religious beliefs, and (3) the EEOC could not bring a claim against the home's clothing allowance because the home 'could not reasonably expect a clothing-allowance claim to emerge from an investigation into Stephens's termination.'

On appeal, the 6th Circuit reversed the district court's summary judgment, granted summary judgment to the EEOC, and remanded the case to the district court.

R.G. & G.R. Harris Funeral Homes petitioned the U.S. Supreme Court for review. The court accepted on April 22, 2019.
In response to this case, an amicus brief was filed to challenge the assumptions regarding gender identity, in particular, the fallacies of the argument for gender fluidity and for the supposed damage caused by untreated transgenderism; it also explained the negative effects of pursuing surgery. One personal testimony was made by Walt Heyer. His statement included the following:
The brief describes Heyer's journey as both a former transgender person and one who now counsels so many who struggle. From both perspectives, Heyer believes current transgender medical protocols fail to treat the root causes.

Heyer now informally mentors people who also regret attempting to identify as a person of the opposite sex, such as by adopting a different name and opposite-sex pronouns, wearing clothing and hairstyles typically associated with the opposite sex, using sex-segregated spaces and engaging in sex-segregated activities that correspond to the opposite sex, and changing their appearance to more closely resemble the opposite sex through makeup, clothing, surgery, and hormones.

Heyer has seen firsthand the harm that can come from encouraging people down that path. Every person Heyer has mentored has concluded that he or she was not born transgender. They believe transgenderism is a learned behavior, a social ideology, not an innate condition from birth. Heyer says he has seen too much unhappiness and regret over the years from hormone therapy and surgeries to think otherwise.

Instead almost all those who offered testimony stated that the most beneficial treatment was therapy, especially because it dealt with underlying psychological issues. The brief included this statement:

Affirming the dysphoria in people suffering from gender identity issues as if they really were persons of the opposite sex only serves to lead those that are suffering with such issues away from finding the serenity and wholeness of being at peace with their bodies and identities. Forcing employers to affirm the denial of reality is not required by Title VII and is more likely to cause harm than good.
Although this brief may have a limited impact on the case, it still makes a powerful statement against the widespread promotion of transgenderism.
One of the amicus briefs on the other side was submitted by the American Medical Association. You can review that brief here.
My greatest concern for the legitimacy that has been given to transgenderism is the effect it has had on children. In one article, Michelle Cretella, the executive director of the American College of Pediatricians, outlined the misconceptions about transgenderism, and concludes with the following statement:
The crux of the matter is that while the transition-affirming movement purports to help children, it is inflicting a grave injustice on them and their nondysphoric peers.

These professionals are using the myth that people are born transgender to justify engaging in massive, uncontrolled, and unconsented experimentation on children who have a psychological condition that would otherwise resolve after puberty in the vast majority of cases.

Today's institutions that promote transition affirmation are pushing children to impersonate the opposite sex, sending many of them down the path of puberty blockers, sterilization, the removal of healthy body parts, and untold psychological damage.

These harms constitute nothing less than institutionalized child abuse. Sound ethics demand an immediate end to the use of pubertal suppression, cross-sex hormones, and sex reassignment surgeries in children and adolescents, as well as an end to promoting gender ideology via school curricula and legislative policies.

It is time for our nation's leaders and the silent majority of health professionals to learn exactly what is happening to our children, and unite to take action.
Let's hope that this case begins a journey to discrediting changes in gender identity. Too many of our children, and even our adult population, are at risk of ruining their lives.
Published in Culture