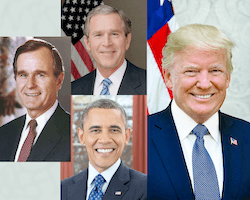 In Realsville, President Trump has done more to check Russian imperial aggression than has any president since Reagan. Fact.* Deal with it.
And.
There is a greater likelihood that Hong Kong will become an independent city-state, like Singapore, than there is that Russia will hand Crimea back to Ukraine in the next decade.
So, all the Republican'ts and Democrats in Congress and the preening punditocracy can kiss my MAGA grits over President Trump floating the obvious formal reintegration of the Russian empire into the same forum (G7) with countries making energy deals that increase European dependence on Russia. Some of us are old enough to remember when Russia invaded the nation of Georgia, seized the territory they wanted, ground they hold to this day. There was no move then, by President George W. Bush, to kick Russia out of the G8. I reserve the right to sustain this position unless and until the president is caught on camera and microphone conspiring with a Russian leader:
Mind you, the "G7" is not the G7 anyway. That is, the membership is an old-boys club, and not actually representative of the seven "leading industrial countries." Compare G7 membership to GDP rankings in 2018:
GDP (April 2019, IMF figures) [G7 Members Bolded]:
01 : United States 21.34 trillion
02 : China, People's Republic of 14.22 trillion
03 : Japan 5.18 trillion
04 : Germany 3.96 trillion
05 : India 2.97 trillion
06 : United Kingdom 2.83 trillion
07 : France 2.76 trillion
08 : Italy 2.03 trillion
09 : Brazil 1.96 trillion
10 : Canada 1.74 trillion
11 : Korea, Republic of 1.66 trillion
12 : Russian Federation 1.61 trillion
---
* See:
…The President praised the vital military relationship between the United States and Poland and applauded Poland for meeting NATO spending benchmarks….

"With the expanded trade and new infrastructure, we will unleash incredible energy innovation that is safe, responsible, and environmentally friendly. The United States supports a commonsense approach to protecting natural resources — one that responsibly balances economic growth, job creation, and energy security," President Trump said.

The President also emphasized the importance of diversifying energy sources, supplies, and routes to ensuring Europe's energy security. Noting that the United States can contribute to this diversification, President Trump noted that the United States will never use its energy to coerce and will work to keep [Russia] from doing so as well.
Trump to visit Poland for World War II anniversary Sept. 1 [2019]:
President Donald Trump will visit Warsaw from Aug. 31 through Sept. 2 to take part in observances marking the 80th anniversary of World War II, aides to Poland's president said Tuesday.

[President] Trump will take part in ceremonies in Warsaw marking 80 years since Nazi German troops invaded Poland on Sept. 1, 1939, starting the war. Some 6 million Polish citizens were killed in the war, half of them Jewish, and the country was devastated in almost six years of warfare.
[…]
Washington recently decided to add 1,000 troops to its contingent of 4,000 troops based in Poland as a security enhancement for the country, which is wary of neighboring Russia's military activity. Poland is planning the purchase of state-of-the-art U.S. F-35 jet fighters. It is also buying liquefied gas from the U.S. in a drive to cut its energy dependence on imports from Russia.
Joint Declaration on Defense Cooperation Regarding United States Force Posture in the Republic of Poland:
…The United States and Poland believe that the presence of United States military personnel in Poland strengthens NATO's deterrence efforts, and the defense of the United States, Poland, and the Alliance, and therefore the United States plans to enhance the United States military presence in Poland….
Trump pitches US natural gas to European leaders, suggests Russian gas holds them hostage:
"Let me be clear about one crucial point. The United States will never use energy to coerce your nations, and we cannot allow others to do so," Trump said at a press conference flanked by European leaders. "You don't want to have a monopoly or a monopolistic situation."

Trump did not name Russia directly, but his message was clear to the assembled leaders.
It is not President Trump, but the presumptively truly compromised (East) German Chancellor Merkel, who is colluding with Czar Putin to keep Central and Eastern Europe under the Kremlin's energy control, binding them to Nord Stream 2:
The criticism came even from leading members of her conservative bloc….

This, of course, comes in addition to the intense pressure from Germany's Eastern European neighbors and Washington, who say the pipeline is a threat to Europe's energy security because it will make the continent even more dependent on Russian gas.

But the 'iron chancellor' would not be moved. She stressed at her joint appearance with Putin that the project is still on, and Putin agreed. "Germany is one of our country's leading economic partners," he said.

[…]

Germany is phasing out both nuclear and coal power. […] And if more Russian gas suddenly comes flowing in, the country could very quickly find itself dependent on Moscow for energy.

The Nord Stream 2 pipeline … would more than double Germany's Russian gas imports, from 53 billion to a maximum of 110 billion cubic metres. Much of that gas would likely then be sold on to the rest of Europe, increasing the whole continent's dependence on Russian gas.
President Trump promotes Liquid Natural Gas shipments from U.S. suppliers to Europe to counter Putin and Merkel:
Europe becoming a "massive" buyer of American natural gas could have big implications for Russian President Vladimir Putin, who currently benefits from Russian exports of LNG to the EU. Natural gas and oil revenues account for over one-third of Russia's federal budget revenues, with over 75 percent of its natural gas exports went to Europe in 2016, according to the Energy Information Administration.

More options — including imports from the U.S. — could give European leaders more options when dealing with Gazprom, Russia's state-owned natural gas company.
Polish President Duda toured a Louisiana LNG terminal this summer, during his visit to America [emphasis added]:
To bolster energy relations, an agreement was signed between U.S. Liquefied Natural Gas suppliers, including Cheniere, and a Polish energy company for 6.95 million tons of U.S. LNG to go to Poland annually.

That amounts to about 55% of Poland's natural gas consumption.

"Our growing energy partnership goes well beyond natural gas," [U.S. Energy Secretary] Perry said. "We're collaborating on nuclear energy, on cyber security, infrastructure as well."

Perry said Cheniere, which began as an import facility, is now the second largest LNG facility in the world.
Published in Foreign Policy