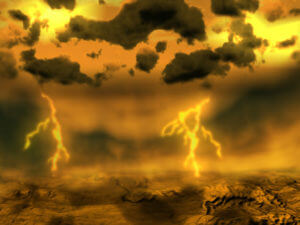 Earth is not the only place in the solar system where it rains.
Venus takes acid rain to a new level. In the clouds of Venus, it rains pure sulfuric acid, which is better known for being in your car battery. NASA probes have also confirmed the presence of lightning – not surprising, given just how thick the clouds are. Not to worry, though, the rain doesn't actually reach the surface, which has such insane heat and pressure that the battery acid rain evaporates before hitting the surface. The surface of Venus is a volcanic hellscape (you could have pools of molten lead, and the carbon dioxide atmosphere becomes a hybrid of liquid and gas called a super-critical fluid), so the acid rain is the least of your concerns.
It says something for how hostile colonization is off of Earth that the atmosphere of Venus (50 km above the hellish surface) is seriously being considered for colonization. It helps that the CO2 atmosphere is so dense that the nitrogen/oxygen mix in our atmosphere would act like helium in a blimp. That high up, you would only need a hazmat suit, as opposed to a spacesuit, and we have a lot of experience making acid-resistant clothing.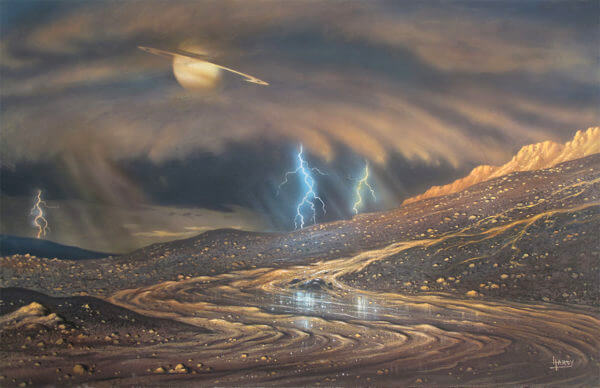 On the other side of the thermometer, you have Titan. Titan is one of the moons that just inspires wonder. It has a frigid, mostly nitrogen atmosphere, with a temperature around the freezing point of methane (the main component of natural gas). This results in a planet where methane acts in all the ways water does on Earth. There are methane lakes, methane clouds, and methane rain – which falls slowly due to the low gravity. On the other hand, Titan's water acts like silica on Earth. There are vast sand-dunes of water ice, and thick layers of solid ice over water, with the occasional water volcano.
Did I mention that because of the low gravity and dense atmosphere of Titan, a person could strap on wings and fly like a bird? Needless to say, Titan is on the colonization radar. It's currently my favorite moon in the solar system.
Published in Group Writing