A recent Pew study showed that two-thirds of Catholics do not believe in the Real Presence of Christ in communion. I was dismayed at this not because I am a champion of this teaching but because I believe that people of faith should wholeheartedly believe what their faith teaches. Otherwise, what's the point?
Here is a little back story. At the last supper in the upper room, Jesus held forth the bread and wine and said, "This is my body, this is my blood. Eat in remembrance of me." Most Christians (with the exception of Quakers and the Salvation Army) believe that this meal is to be reenacted in our worship today.
While there is debate over little stuff (how often, wine vs. grape juice, etc.), the substantive controversy has to do with the metaphysical aspect of this reenactment.
Evangelicals, Baptists, and Fundamentalists follow the view of Huldrych Zwingli. They emphasize Jesus' statement, "This do in remembrance of me," and sees the rite as nothing more than a memorial of Christ's Person and work. It is similar to the Passover Seder that remembers God's power redemptive work towards Israel.
At the other end, the Catholics take Jesus' statement most literally. "This is my body" and "This is my blood" means just that. This argument is strengthened in the disturbing John 6 dialog where Jesus speaks of Himself as the "bread of life" and tells people to "eat my flesh and drink my blood." As the crowd pulled away, Jesus doubled down on the uncompromising language.
This is why Catholics believe that the communion wafer actually changes substances. During the ritual, the elements still look like bread and wine but, in reality, they are not bread and wine. The substance is transferred into the actual body and blood of Christ. Thus, this teaching is called transubstantiation which brings forth the Real Presence.
Martin Luther pulled away from this far end of the spectrum. He believed in a sort of Real Presence but he did not believe that the bread stopped being bread. He taught that Christ's presence is in, with, and under the bread but not actually it. John Calvin pulled away further, thinking Christ's presence was there, but in a spiritual not physical sense. And Zwingli was the least literal on this point.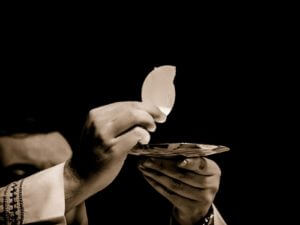 Regardless of the debate, here my thesis stands: All Catholics should believe in the Real Presence that their church as the church is dogmatic. I say that not because I am a champion of that view, but because culture is served best when people of faith are "all in" holding forth the very distinctives that define their faith tradition in the first place. Culture at large is driven by ever-shifting popularity of ideas. People of faith believe what is true for all time.
I'm not saying that religious people should believe the improbable – anyone in such a faith tradition should seek out another community. Nevertheless, most in the Catholic church who say they don't believe in the Real Presence probably rejected it because it sounds odd, is the stuff of superstitious Catholic grandmothers, or they never took the time to read a Catholic book and learn.
Nevertheless, there are plenty of Catholic books, podcasts, and apologists who can handily make the case that the things they believe are plausible – that is, if you make the assumptions and approach the church has always made their conclusions make sense. At the very least, they're not idiots. If you are not willing to make the kind of assumptions Catholic theologians and thinkers have historically made for thousands of years, you may be in the wrong church but don't leave on a whim and without much thought.
In short, what is the point of a revealed faith if you are not all in? If you don't think that God's revelation and the traditions of the best thinkers of Western Civilization have more insight than your musings, why not simply play golf on Sunday? If you'd rather eat at the smörgåsbord of spiritual ideas, then become one of those boring self-referential "I'm not religious, only spiritual" kind of people who are a dime a dozen and use the Sabbath for one of those self-affirming nature walks?
But if you have the radical idea of being a Christian or a Jew, then be one.
If you're an Evangelical Christian, study your Bible deeply and speak the gospel to all who come your way.
If you're Reformed Christian, study deeply the Puritans and the Reformers and pursue a faithful, holy, sanctified life.
If you are a Jew, then believe that God has called you as a distinct people and has given you His Law and ways to be a blessing to the world (and if your Rabbi is more interested in Black Lives Matters and other liberal causes, find another shul).
And if you're Catholic, go to Mass regularly, embrace the sacraments, and let His Presence change your life.
Published in Religion & Philosophy