Over 20 years ago, my husband and I visited a temple in Thailand with a Thai friend of ours. She had become friendly with the head monk who, along with his monks, had taken in many tigers. These tigers had, for the most part, been picked up as cubs by people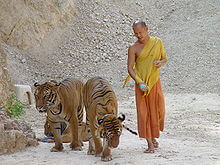 who were visiting the forests; when they recognized their foolish decisions to capture the tigers (since the cats grew to be substantially larger and more fierce), they took them to what came to be called the Tiger Temple. The head monk felt he could provide a place of safety and care for the tigers, and gradually housed many tigers around the temple.
Every day the monks would take the tigers for a walk. They had an incredible rapport with these wild animals, and could often be seen relaxing with them in the open land nearby. The cats were kept and fed in very large cages, with plenty of room to walk around. We realized that there was no long-term planning involved; food for the cats was provided by people who knew of the monks' work, including locals and tourists. Visits by outsiders were infrequent, and the cats looked well-cared for. It appeared that the monks were just doing what they believed was needed; theirs was the compassionate action to take.
Unfortunately, some of those outsiders decided to capitalize on the situation. They persuaded the head monk that they could make the temple famous, a tourist attraction, and that they could be of great help in the care of the animals. Our Thai friend knew immediately that this would be a very bad idea, but in spite of her rapport with the head monk, she couldn't convince him to decline the offer. Eventually the entire project became a disaster for everyone involved, including the monks and the tigers. The Temple was finally raided by the government, probably based on the outrage of the public; the tigers were removed and the tiger portion of the facility was shut down in 2016.
In February 2018, the facility was re-opened as a zoo by the Department of National Parks. A representative of the Department reports that the new facility will now be legal, ". . . because our department can control it directly."
Somehow I don't feel reassured.
I assume that PETA is not active in Thailand. But like anywhere else, the greedy have to make a buck at the expense of the monks and the tigers.
Here are some photos of our visit. Except for a couple of other people wandering around, we (with our friend) were the only visitors back then. The head monk was nice enough to meet with us privately. Even though the tiger was chained to a tree and the head monk stood close by to distract the tiger if he looked at me, it was still a stupid thing to do. Still . . .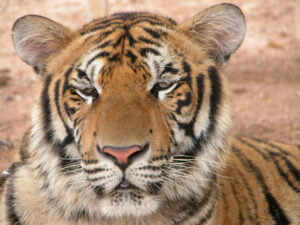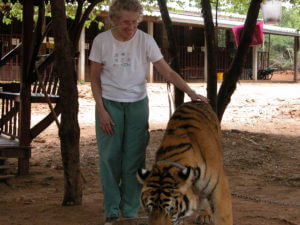 Published in Group Writing