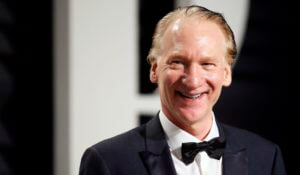 Bill Maher has made a very successful career in show business with his particular brand of social commentary. He is viewed as an urbane intellectual with a cutting wit. He attempts to establish his dedication to independent thought with the title of his hit show, "Politically Incorrect," but rarely deviates from modern leftist orthodoxy. Why, you wonder? If he's as smart as he's supposed to be (and I suspect he is), wouldn't his comedy benefit from the occasional excursion into more controversial positions? Much of modern comedy is about making your audience vaguely uncomfortable and challenging their ways of thinking. Why doesn't he do this to his mostly liberal audience? Why not occasionally challenge one of their assumptions? This is comedy, right? I'll allow Mr. Maher himself to explain why he can't do that.
In his opening monologue recently, when Mr. Maher told his mostly liberal audience, "Yesterday David Koch of the zillionaire Koch brothers died…of prostate cancer," his audience applauded. You may find that amazing, but I suspect that Mr. Maher knew that that was an easy applause line. I find that amazing. Anyway, Mr. Maher continued, "I guess I'm going to have to re-evaluate my low opinion of prostate cancer…He and his brother have done more than anybody to fund climate science deniers for decades. So [expletive] him, the Amazon is burning up, I'm glad he's dead, and I hope the end was painful." Why such seething hatred? Because Mr. Koch and Mr. Maher disagreed about politics.
Well, some politics. They agreed on some political issues. For example, they both hated Donald Trump. They had other topics they agreed on. But they disagreed on some political issues, and for a modern leftist, that's enough. They skip the political debate part. They go directly from disagreement, on any leftist issue, and move directly into vicious hatred of their adversary with no alternative but to destroy that person.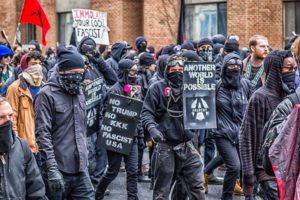 This demand for absolute conformity is not new. Modern leftists did not suddenly lose interest in debate and discussion. Think of history's most famous leftists: Lenin, Mao, Hitler, Stalin, Castro, and so on. None of them were known for being tolerant and open-minded, seeking consensus with their adversaries to solve problems. Those famous leftists would recognize Mr. Maher's blatant lack of humanity or empathy to his adversaries. No disagreement can be tolerated. So we should not tolerate those with whom we disagree. If you acknowledge the humanity and the good intentions of your adversary, some might think that he has a point. And you lose your dominance.
Leftists want control. Those on the right want to leave you alone, and let you do as you please. But what if you do something that is wrong (according to the left)? That can't be tolerated. Of course.
A defining feature of the right is a respect for other people and their ideas. The monarchs of 1700s Europe thought that giving peasants the right to vote in this new country was clearly absurd. Who cares what those provincial, uneducated people think? I'll tell them what to think. They will not tell me anything. Who knows what silliness goes on their heads? They lack my intellect, education, and understanding.
Freedom of speech, and even freedom of thought, are threats to the left. Even respect for others, when you get right down to it. And the left knows it. So they tolerate no dissent. If you disagree with them about, well, anything, then you must be destroyed. And when you die a painful death, people will cheer.
Mr. Maher understands the left that he associates with. He knows how they handle disagreements. So do Brett Kavanaugh and Clarence Thomas. So does Mitt Romney. Lifelong Democrat Donald Trump found out how he was treated when he abandoned the left. Even Robespierre figured out the intolerance of the left, at the end. Thomas Jefferson learned a lot from the French Revolution, as did many others.
In America, we use politics to settle our differences. Some places in the world use AK-47's to settle debates. Here, we discuss, and we vote. Only if we respect those with whom we disagree can this system work. Because if your adversary is unworthy of your respect, or even your empathy, then why would you care what they think? Then, the only thing that matters is what you think.
Then, you applaud your adversary only when they die a painful death.
These are scary times.
Published in General