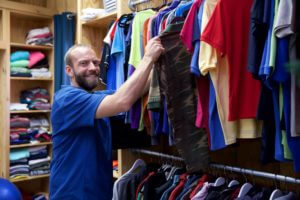 For Blaine Adamson, there's no separating his beliefs from his work. His Christian faith is what guides and drives him. It's what makes Blaine who he is at home, in his community, and in his business.
Blaines' faith is why his promotional print shop, Hands On Originals, provides otherwise unemployed women in Uganda with a steady income by hiring them to create hand-woven baskets, which they then give away to customers to raise awareness for the struggles these women face on a daily basis.
But this same faith that motivates Blaine toward generosity is the reason why he has had to defend himself in court over the past seven years. The latest stop is today at the Kentucky Supreme Court. There, the justices will decide whether Blaine is allowed to decline to print messages that violate his faith.
Blaine serves everyone; he just doesn't print all messages. In fact, between 2010 and 2012, Blaine declined to print over a dozen messages, including one for a Kentucky church group that brought him a design featuring Jesus sitting on a bucket of fried chicken. Blaine told that group he found the artwork disrespectful, and he declined to print it.
While Blaine occasionally declines orders because of the message he's asked to print, he still helps those customers as much as he can—he goes as far as his conscience will allow. That is why he offers to send those orders to another print shop that will create the requested item.
That's exactly what happened when Hands On Originals was asked to print shirts promoting an upcoming gay pride festival in Lexington back in early 2012. The shirt design featured a large rainbow-colored "5"—a recognition that it would be the event's fifth year—along with the words "Lexington Pride Festival."
After considering the message that those words and that logo would communicate, Blaine decided to decline the order. Those shirts would have promoted a view of sexuality that Blaine doesn't share. Even members of the requesting group—the Gay and Lesbian Services Organization—admitted that the shirts expressed messages in conflict with Blaine's religious beliefs.
Blaine offered to connect the group to another printer that would create the shirts for the same price. But the group wasn't satisfied with that solution. Instead, it filed a complaint with the Lexington-Fayette Urban County Human Rights Commission, which in turn ruled that Blaine had illegally discriminated against the GLSO based on sexual orientation.
Blaine didn't stand a chance before the commission. Ignoring the fact that Blaine serves and employs people who identify as gay and lesbian, the commission ordered Blaine's staff to attend "diversity training" as punishment. The commission also failed to account for another glaring detail along the way—one Hands On Originals customer, a lesbian musician, performed at that year's pride festival, making the idea that Blaine discriminates on the basis of sexual orientation even more far-fetched.
Meanwhile, the GLSO—whose then-president was married to a woman and did not identify as gay—was contacted by "nearly a dozen t-shirt companies" that said "they would be happy to print . . . t-shirts for the Pride Festival." In the end, one company printed the GLSO's shirts free of charge, saving the group $3,000 in the process.
In 2014, a Kentucky trial court ruled in Blaine's favor, overturning the commission's ruling. In 2017, a court of appeals again ruled in Blaine's favor, pointing out that the idea of punishing Blaine for his decision not to print a particular message "would result in absurdity under the facts of this case." Yet, undaunted in the lead-up to arguments at the Kentucky Supreme Court, the commission still contends that it should win.
No matter how doggedly the commission pursues Blaine, it shouldn't be allowed to punish him for declining to print a message he wouldn't have printed for anyone. Americans don't surrender their faith or their freedom of speech when they choose to make a living by printing messages or creating speech. The Kentucky Supreme Court has a chance to affirm that.
That's why Blaine's case is so critical not just for his fellow Kentuckians, and not just his fellow Christians, but for everyone.
Published in General