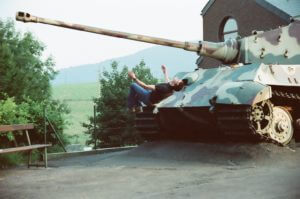 Scrolling through the scanned images from many years of 35mm manual camera photography, I ran across this image. It was one of my better shots from my first military assignment, in Bavaria, West Germany. But who was that young officer doing a standing backflip under the elevated barrel of a King Tiger tank? I had not spoken with him since I left Germany in the spring of 1990, and his name had faded from memory. A bit of poking around the internet answered that question and filled in a vague memory with surprising detail.
When I reported to my officer basic course at Fort Bliss, Texas, I saved my modest pay until I could buy a good basic 35 mm camera kit. I bought a Pentax K1000 camera. Knowing I would be shooting film on the go, my hands often occupied with a map, mike, or machine gun, I went with a compromise lens, an aspherical 28-200mm wide to telephoto lens. That lens stood me in good stead through about seven years of active service, until I busted some pin or ring when I tossed the camera into a back seat.
In an age before cell phone cameras, most consumers either had a real 35mm single-lens reflex (SLR) camera or some form of disposable camera with very limited capability. So, I tended to be the guy behind the lens. During an official goof off officer professional development weekend, a paid field trip with our senior officers effectively chaperoning us young'uns, we happened to stop at this scene.
The King Tiger tank was the heaviest main battle tank in history until the advent of the M1A1. It was really cool looking, just the sort of thing young men, of any age, want to clamber upon.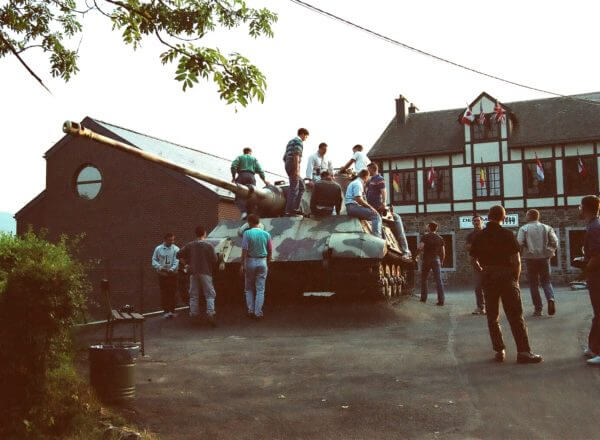 At seventy-five tons, it was bigger than its predecessor. Its longer-barreled (and thus higher velocity) KwK 43 88-millimeter cannon could penetrate five inches of armor at a range of two kilometers (1.2 miles). With Sherman and T-34 crews having about two inches of frontal armor between them and eternity, no wonder a supersized Tiger must have seemed the devil on treads.
[…]

The problem was that by the time the King Tiger made its combat debut in Normandy in July 1944, the necessities that Nazi Germany most lacked was trained, experienced tank crews and fuel and logistics support.
[…]
In terms of the triad of metrics for tanks—firepower, armor and mobility—the Tiger II was quite impressive. It was probably better than its American rival, the lighter and less heavily armored forty-six-ton American M-26 Pershing. A more interesting question is the King Tiger versus the Soviet IS-2 Stalin tank. There are all sorts of conflicting data and opinions on this duel, though an encounter between IS-2s and King Tigers in August 1944 destroyed or damaged ten tanks on either side. One flaw of the IS-2, whose powerful 122-millimeter gun could theoretically penetrate a King Tiger's thickly armored turret at one-mile range—was its low rate of fire and limited onboard ammunition supply.
I was clicking away, when one of the lieutenants, who had come to Germany sometime after me, asked me to take a picture of him doing a standing backflip under the elevated barrel of the King Tiger. We all expected that he could do this, as we had heard a bit about him and his wife.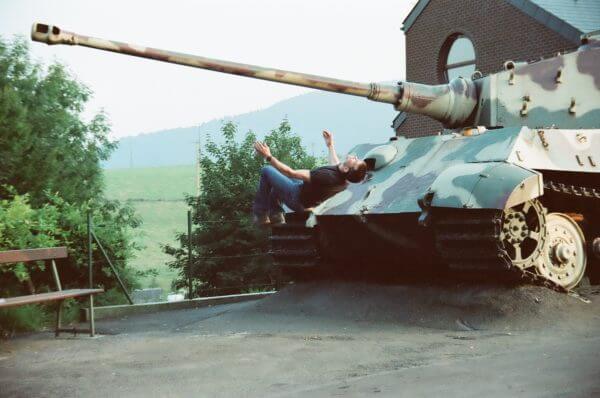 Who is this young officer, joyously executing a standing backflip under the Third Reich's most powerful tank? I drew a blank, after all, this was around 1988 and I had not talked to him since leaving West Germany in early 1990. I remembered he was a serious international competitor on the double-mini trampoline. In essence, he did high diving without the water. He was married to a West German woman who he had met in competition when she was a member of the West German team. So, I had some basic start points for research.
I started searching trampoline competitions. Shortly, I found the discipline and the World Games. Then I found this:

I did not recall him talking about being a champion, but there it is. The inaugural World Games were held in Santa Clara, California, in 1981. This provided a venue for sports that are not firmly in the Olympic movement.
A bit more noodling around, and I found that Carl Heger was competitive on trampoline until 1999. His wife was his coach. He was inducted into his discipline's hall of fame in 2007. But wait, there's more!
He apparently did much of this international level athletic competing while his day job was either the United States Army or the FBI. Yes, it turns out that, sometime after he was awarded the Bronze Star Medal as a senior first lieutenant during Desert Storm, he left active military service and made a career in the FBI. Federal agencies, military or otherwise, love the prestige of boasting on one of their members being an elite athlete. If you are good enough, chances are you will get some level of support from your organization.
In browsing videos and web pages about Carl, I found that he and his wife had at least two sons. They came up as competitors following in their parents' footsteps, coached by their mother!
The photograph I took around 1988, on a typically overcast German day, struck my fancy enough to have it enlarged to around 8X11 and framed. It was on a wall in my dwelling places for a couple of decades. The image was striking enough to jump out at me, triggering that vague, happy, youthful memory a day or so ago, prompting a fruitful search for more details. So, what people of extraordinary accomplishment did you know back when?
Published in General