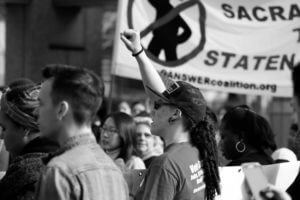 Perhaps we got it all wrong.
Since 1964, black voters migrated to the Democrat Party and never looked back. At this point, they support Democratic presidential candidates at rates anywhere between 90-94%. Why?
One approach is to say that black voters are on the Democratic plantation and are unwilling to consider alternatives for a variety of unflattering reasons. I'm with Kevin Williamson in not buying this argument and being a bit repulsed by its condescension. Plus, it's a bit counter-productive to persuade people to agree with you after you tell them they've been duped all along.
However, I'm not with Williamson when he says it's simply because they prefer the policies of the Democrats to Republicans. Here, we know that blacks are not monolithic in their views, even though they're monolithic in their voting behavior. I think of the many blacks I know who are religious and very much conservative in their views about economics and welfare, among other issues. Even though they agree with Republicans when it comes to their most deeply held convictions, they still vote for Democrats who disagree with them. But, as a researcher, I know that correlation doesn't necessarily imply causation.
To bring it back to my opening point, maybe we've been going about it the wrong way. As I think about the black voters I know of, it's apparent to me that voting Democrat is the default option. When everyone you know votes Democrat, it's only natural that you will also act accordingly, and I've heard people tell me as much. So, to me, while black voters may have gone to the Democrats for historical reasons back in the '60s/'70s, today I think it's mainly inertia. But it's so strong that it seems to be more of an attribute than a behavior. That is, Democrat is who we are rather than how we vote. It's like one's ethnicity or religion.
What I like about this hypothesis is that it is simple, elegant, and yet explanatory. It explains cognitive dissonance that so many black voters are in when they support candidates who push an agenda they do not believe in at all. I think it also shows that discussions about what the GOP can do to win over black voters are usually exercises in vanity. It's far too convenient to say the GOP repels black voters when they have no real interest in considering supporting the party.
Now, I should be clear that I'm not arguing the GOP should write-off black voters. I'm a good enough student of politics to know that no trend is ever permanent. It's possible that black voters will become more polarized than they are now but I don't know how that will happen, or when. But thinking of black voting as an attribute rather than a behavior can possibly help the GOP figure out ideas to increase their support or, at the very least, eliminate bad ideas that won't work.
Published in Politics