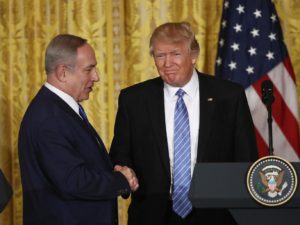 President Trump continues to amaze me each time he alienates another group of Americans. And this time he's correct: Jews who are Democrats clearly are misguided and foolish regarding their attitudes toward Judaism, the Democrat party, America and Israel. Here's Trump's brief remark:
I think any Jewish people that vote for a Democrat — it shows either a total lack of knowledge or great disloyalty.
In response, several Jewish groups denounced the comment:
'It's unclear who @POTUS is claiming Jews would be 'disloyal' to, but charges of disloyalty have long been used to attack Jews. As we've said before, it's possible to engage in the democratic process without these claims. It's long overdue to stop using Jews as a political football,' Anti-Defamation League CEO Jonathan Greenblatt tweeted later Tuesday.
J Street, which frequently engages in anti-Israel attacks, said this about Trump's statement:
It is dangerous and shameful for President Trump to attack the large majority of the American Jewish community as unintelligent and 'disloyal.'
And Halie Sofer, executive director of the Jewish Democratic Council of America, accused Trump of anti-Semitism:
If this is about Israel, then Trump is repeating a dual loyalty claim, which is a form of anti-Semitism. If this is about Jews being 'loyal' to him, then Trump needs a reality check. We live in a democracy, and Jewish support for the Republican Party has been halved in the past four years.
(I have no idea if the last sentence in her comment is accurate.)
Since Trump has not clarified the reasons for his comments, I'm going to offer my own interpretations.
Jews have supported liberal movements for a very long time. As the perpetual underdog community, it has shown empathy for those who suffer. In the 20th and 21st centuries, however, the have shown themselves not worthy of defending; the Palestinians, Hamas, and Hezbollah in particular, have proven to be vicious and destructive. Their goal is to wipe Israel off the face of the earth, a reality that many Progressive Jews prefer to ignore. (I'd suggest that this fact is one reason that Trump states that Jewish Democrats lack knowledge.)
Jewish Democrats also seem to have no problem living with cognitive dissonance. Even though Rashid Tlaib and Ilhan Omar made blatant anti-Semitic and anti-Israel remarks, the Jewish Democrats refused to condemn them. Yet these same Jews are delighted to berate President Trump, in spite of his daughter and son-in-law being Jewish, his supporting Israel and Benjamin Netanyahu, his encouraging the withdrawal of UN funds that supported the Palestinians, and acknowledging Jerusalem as the capital of Israel.
By the way, I believe when Trump described Democrat Jews as disloyal, he was speaking of their disloyalty to this country due to their support of a party that is constantly condemning America and refuses to pass legislation in the country's interest. I also think he feels they are disloyal to the Jews in Israel who are fighting for their very existence, and disloyal to other Jews in this country who are Republicans, a party whose values are much closer to Jewish values than the Democrats could ever be. There might have been a time when a Jew could try to justify being a Democrat before the domination of the Progressives, but those times are long past.
I like what the Republican Jewish Coalition tweeted:
President Trump is right; it shows a great deal of disloyalty to oneself to defend a party that protects/emboldens people that hate you for your religion.
Indeed.
Published in Politics