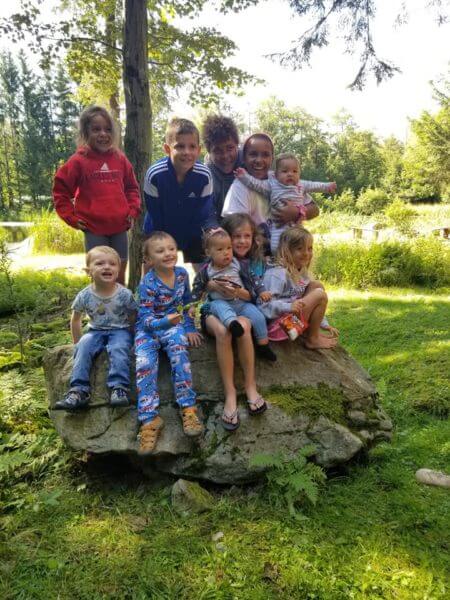 My 10 (so far) grandchildren will grow up in an age when it will be harder and harder to decide what race and ethnicity boxes to check on census forms and other applications because the rate of intermarriage in the US is so high. The astonishingly bright and good-looking kids in this picture are all partly Irish and Scottish (me and my wife) but include African, Filipino, Central American, English, German and certainly some miscellaneous other ethnicities.
In my generation, there was not much white-black intermarriage and Asian guys I knew complained that white girls were not interested. But within the parish and parochial school communities, the various Catholic ethnicities (Irish, German, Italian, Polish, Mexican) merged rather rapidly. A mathematician of my acquaintance from St. Louis said it was only a matter of two generations before there would not be any purely Irish or German Catholic families in St. Louis. It was as if that form of intermarriage was a requirement. He exaggerated but it did seem the norm. And now marriage-wise, America is one big St. Louis Catholic parish in which mixing of all kinds is the norm rather than the exception.
As America continues to rapidly integrate and erase boundaries between ethnicities, religions, and races, our elite class is increasingly obsessed with basing ideology, identity, policy, and social structure on sharp racial distinctions and hostilities that no longer exist.
It is almost as if Martin Luther King never existed, as if it were never the shared ideal of the vast majority of Americans that race would no longer matter. Weirdly, in an age when de jure discrimination no longer exists, and racial segregation in economic and social institutions is vanishingly rare, where Americans are far more likely to know an interracial couple than an actual "white supremacist," the political rhetoric of racial division seems louder than ever.
I am old enough to have listened in-person to an angry speech by George Wallace. My father spent many months on the road in Mississippi and Tennessee as a USDOJ attorney in the Civil Rights Division. I used to drink with a colorful old fellow who had been planted in the KKK in Maryland and North Carolina by the FBI ("Hell, by the time I finished with that stuff, I think most of the Klan was made up of informants and FBI guys."). In other words, like every other American my age, I know what real racism looks like and it was not a collection of microaggressions, infelicitous adjective choices and historical revisionism.
Cultural appropriation, privilege, racism… an entire vocabulary created to describe conditions that do not actually exist. And now the idiotic New York Times "1619 project" will try to describe the United States as nothing but an outgrowth of slavery rather than the miraculous political project that ultimately not only ended slavery but made democracy a global norm and human rights a universally shared ideal.
My grandkids were supposed to grow up in the "I have a dream" America, not in the malignant fiction that Mr. Baquet and the entire Democratic Party want to impose on them.
Published in General