The Washington Post has a story about the aging population in Maine, and I was struck by the following paragraph (emphasis mine):
"Across Maine, families like the Flahertys are being hammered by two slow-moving demographic forces — the growth of the retirement population and a simultaneous decline in young workers — that have been exacerbated by a national worker shortage pushing up the cost of labor. The unemployment rate in Maine is 3.2 percent, below the national average of 3.7 percent."
Wow. So the Washington Post apparently believes that supply and demand works, which makes one wonder how they support the economic policies of the Democrat party. But it also brought something else to mind: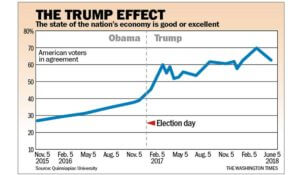 During the Bush years, the economy grew nicely, but job growth was relatively flat, so the leftist media called it, "a jobless recovery." With Obama, the economy tanked and unemployment skyrocketed. So many people dropped out of the workforce that the Obama administration started coming up with new ways to compile unemployment statistics, to make it sound less dire. The media tried to ignore the economy and unemployment, and focused instead on Obama 'promoting moderate tax increases on the wealthy to pay for healthcare for all.' Now, with Trump, the economy is growing and unemployment is falling. So rather than praise low unemployment and high wages, the media complains of "a national worker shortage pushing up the cost of labor." Of course, the left also claims to want full employment for all workers, and higher wages, so you would think this would make them happy. This is all so confusing.
So if President Bernie Sanders institutes full employment and high wages via executive order, that's good. That's fair. That's healthy. That's also impossible, but forget that for a moment.
But if capitalism creates lower unemployment and higher wages, that's a crisis.
It must be tough being a journalist. Keeping track of your unbiased objectivity, as it changes like the seasons. As the graph above demonstrates, American voters continue to figure out that the economy is doing better and better. It's becoming so obvious that it's being noticed by more people every day. So the media must work harder and harder, and look more and more ridiculous, trying to find negative slants on good news. Like the horror of low unemployment and high wages.
Don't get me wrong; I know that there are some downsides to low unemployment. But this is just absurd. Why does anyone get their information from these clowns anymore?
The problem is, a representative republic doesn't work without a functioning media. If the voters don't have good information, how can they make good decisions? It's almost as if the left didn't want our voters to make good decisions. But of course, that's ridiculous. Right?
Published in General