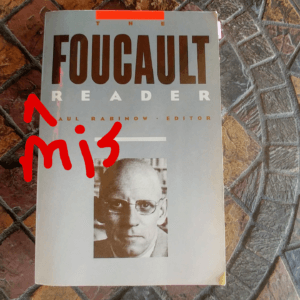 In the process of critically assessing the New York Times' "1619 Project," an author at The Spectator managed to misread Foucault. Please hang in there! I promise this is worth your while. I offer some helpful context for the "1619 Project," and show that it is very vulnerable to attack from a post-modern icon. You need not trot out conservative arguments that fall on deaf ears. You can turn Foucault on the New York Times.
John Hinderaker, of Power Line Blog, offered a commonsense analysis of the NYT "racism" narrative:
A normal person might wonder why the Democratic Party, in the person of the New York Times, is so obsessed with slavery, which was abolished 154 years ago. Isn't it time to move on? Forty or fifty years ago, that is what just about everyone thought. But the Times, on behalf of the Democratic Party, is trying to stir up race hatred. Democrats think racial hostility is essential to defeating President Trump in 2020–their paramount goal, next to which everything else is an afterthought. They face a problem, in that Trump has been the best president for blacks, certainly since Reagan, maybe forever. So, they say, let's focus on 1619. And then go out and vote for Democrats, the party of slavery and Jim Crow.
Byron York summarizes the basic, cynical dishonesty of the New York Times' belated "racism" gambit:
Perhaps when you think of the founding of the United States, you think of the Declaration of Independence, the Constitution, the Bill of Rights, the Federalist Papers. Now, the New York Times wants to "reframe" your understanding of the nation's founding.

[…]

Another, more concise statement from the Times: "The goal of The 1619 Project is to reframe American history."

The basic thrust of the 1619 Project is that everything in American history is explained by slavery and race. The message is woven throughout the first publication of the project, an entire edition of the Times magazine. It begins with an overview of race in America — "Our democracy's founding ideals were false when they were written. Black Americans have fought to make them true." — written by Times writer Nikole Hannah-Jones, who on Twitter uses the identity Ida Bae Wells, from the crusading late 19th-early 20th century African American journalist Ida B. Wells.
No one with two functioning brain cells could miss the NYT timing and intent. If they truly cared about commemorating the 400 year anniversary and subsequent history of African slavery in America, they would obviously have launched this project back on January 1, 2019. Oh, landfall was August 20, 1619, but for such an important milestone, if it is truly central, then you would expect a year-long focus, starting no later than African-American history month, which is always February. See their 2017 year-long praise and papering over of a century of communist power in the "Red Century" series.
Astonishingly, Salon helpfully provided us with a full transcript, leaked by an NYT staffer, that tells us, inadvertently, just how cynical this gambit is:
Baquet: OK. I mean, let me go back a little bit for one second to just repeat what I said in my in my short preamble about coverage. Chapter 1 of the story of Donald Trump, not only for our newsroom but, frankly, for our readers, was: Did Donald Trump have untoward relationships with the Russians, and was there obstruction of justice? That was a really hard story, by the way, let's not forget that. We set ourselves up to cover that story. I'm going to say it. We won two Pulitzer Prizes covering that story. And I think we covered that story better than anybody else.

The day Bob Mueller walked off that witness stand, two things happened. Our readers who want Donald Trump to go away suddenly thought, "Holy [expletive], Bob Mueller is not going to do it." And Donald Trump got a little emboldened politically, I think. Because, you know, for obvious reasons. And I think that the story changed. A lot of the stuff we're talking about started to emerge like six or seven weeks ago. We're a little tiny bit flat-footed. I mean, that's what happens when a story looks a certain way for two years. Right?

I think that we've got to change. I mean, the vision for coverage for the next two years is what I talked about earlier: How do we cover a guy who makes these kinds of remarks? How do we cover the world's reaction to him? How do we do that while continuing to cover his policies? How do we cover America, that's become so divided by Donald Trump? How do we grapple with all the stuff you all are talking about? How do we write about race in a thoughtful way, something we haven't done in a large way in a long time? That, to me, is the vision for coverage. You all are going to have to help us shape that vision. But I think that's what we're going to have to do for the rest of the next two years.

This is no longer a story where the Washington bureau every week nails some giant story by [Washington correspondent] Mike Schmidt that says that Donald Trump or Don McGahn did this. That will remain part of the story, but this is a different story now. This is a story that's going to call on different muscles for us. The next few weeks, we're gonna have to figure out what those muscles are.
So, the New York Times did not give a rats' rear end about 1619, and the way African slavery became intertwined with American history, until their "Russia, Russia, Russia" lie was fully exposed and politically negated. They were now staring into the abyss of their fellow conspirators being exposed, and perhaps even criminally charged before the 2020 election. Let us briefly note, then set aside from present consideration, that there are serious challenges to the 1619 narrative as dis-empowering, as denying agency, and so humanity, to Africans:
There are important historical correctives to the misplaced marker of 1619 that can help us ask better questions about the past. Most obviously, 1619 was not the first time Africans could be found in an English Atlantic colony, and it certainly wasn't the first time people of African descent made their mark and imposed their will on the land that would someday be part of the United States. As early as May 1616, blacks from the West Indies were already at work in Bermuda providing expert knowledge about the cultivation of tobacco. There is also suggestive evidence that scores of Africans plundered from the Spanish were aboard a fleet under the command of Sir Francis Drake when he arrived at Roanoke Island in 1586. In 1526, enslaved Africans were part of a Spanish expedition to establish an outpost on the North American coast in present-day South Carolina. Those Africans launched a rebellion in November of that year and effectively destroyed the Spanish settlers' ability to sustain the settlement, which they abandoned a year later. Nearly 100 years before Jamestown, African actors enabled American colonies to survive, and they were equally able to destroy European colonial ventures.
Having noted previous challenges from the left to the 1619 narrative, consider that the New York Times' belated gambit follows the generation-long cultivation, or closing of minds by Howard Zinn's disciples.
[C]ontemporary academic wisdom—about the history of the United States, among other things—is suffused with a habitual, obsessive Marxism. And the heroic narrative, needless to say, has been reversed: Scholarship is now investigative journalism, uncovering past crimes.

There have always been rancorous debates among historians, and schools of history are often tinctured by dogma. But our current predicament is, to some degree, unprecedented. What we might call the pathological view of the United States—American history as a chronicle of injustice, oppression, inequality, violence, and little else—is firmly established in the academy and insulated against institutional dissent by the custom of tenure and the folkways of academic publishing. To make matters worse, one of the seminal texts of contemporary doctrine—Howard Zinn's People's History of the United States (1980)—is also one of the few academic bestsellers of our time.
Marxism? Yes, it has been a standard Communist Party ploy since at least the 1930s to peddle criticism of successful democracies, with functioning capitalist economies, as "racist." That is not a right-wing propaganda claim; see The Atlantic just two years ago:
Neither is playing on racial tensions inside the United States a new Russian tactic. In fact, it predates even the Cold War. In 1932, for instance, Dmitri Moor, the Soviet Union's most famous propaganda poster artist, created a poster that cried, "Freedom to the prisoners of Scottsboro!" It was a reference to the Scottsboro Boys, nine black teenagers who were falsely accused of raping two white women in Alabama, and then repeatedly—wrongly—convicted by all-white Southern juries. The case became a symbol of the injustices of the Jim Crow South, and the young Soviet state milked it for all the propagandistic value it could.

It was part of a plan put in place in 1928 by the Comintern—the Communist International, whose mission was to spread the communist revolution around the world. The plan initially called for recruiting Southern blacks and pushing for "self-determination in the Black Belt." By 1930, the Comintern had escalated the aims of its covert mission, and decided to work toward establishing a separate black state in the South, which would provide it with a beachhead for spreading the revolution to North America.
So, the New York Times reached out for a preexisting storyline, that was already deeply embedded by a generation or more of school-house propaganda, and that storyline is clearly communist-inspired. At the same time, it is subject to substantive criticism from the left, even from critical race theory! Yet, conservatives are likely to miss the most effective attacks on the Times, as a supposedly powerful critique of the New York Times from The Spectator illustrates:
The word 'narrative' is used about half a dozen times in that town hall transcript. Baquet's notion of the paper having a 'vision' is similarly postmodern. The clearest parapraxis of all is when he says 'Chapter One' of the 'Donald Trump story'. Do the Times report the news any longer, or are they 'self-consciously crafting the first draft of history'? As Bruno Maçães put it, 'this no longer feels like journalism. It's novel writing.'

Last week also saw the launch of the Times magazine's '1619 Project', which is far more ambitious than mere journalism too: 'The 1619 project is a major initiative from the NYT observing the 400th anniversary of the beginning of American slavery. It aims to reframe the country's history, understanding 1619 as our true founding.' Essays in the series so far have attempted to demonstrate that America's prisons, dietary habits, music, traffic jams, medical practices, healthcare systems, wealth gap and entire political economy, are all bones bound to one body: slavery, 'the country's true origin'. Somebody had better dig up the Founding Fathers to let them know the Times has figured out that the true founding of the USA was 157 years before they thought it was.

[…]

The thinker who really hovers over own era, as Peter Oborne points out in his useful book The Rise of Political Lying (2005), is Michel Foucault. If you have a machete to hand, prepare to use it to cut through the Frenchman's inimitable prose:

'Truth is to be understood as a system of ordered procedures for the production, regulation, distribution, circulation and operation of statements. Truth is linked in a circular relation with systems of power which produce and sustain it, and to effects of power which it induces and which extend it.'

Truth is there to be created by the powerful. This is a seductive and flattering notion, particularly for wielders of power. If, as Oborne notes, 'reality and presentation' become identical, then all kinds of managers, in all kinds of industries – including journalists – are free to shape 'narratives' according to their own interests.
That last paragraph is simply wrong in explaining Foucault. His position, faithfully represented in the italicized quote, is better characterized as "'truth' is created by the powerful." Therefore, we can expect all wielders of power to shape "narratives" according to their own interests. This is a dangerous criticism to the left, as Foucault makes no exception for the vanguard of the proletariat. No one ends up in a position deserving to be immune from criticism.
I got this insight two decades ago from a rare bird, a political philosophy doctoral candidate. Even then, that student and I knew to say such things with great care, sounding clever but not threatening to the left that already nearly dominated the profession. Postmodernism is deserving of criticism and even rejection, and turning Foucault's lens on the left burns away leftist pretensions of virtue or truth.
As Foucault explained in a 1983 interview:
I have never tried to analyze anything whatsoever from the point of view of politics, but always to ask politics what it had to say about the problems with which it was confronted. I question it about the positions it takes and the reasons it gives for this; I don't ask it [politics] to determine the theory of what I do. I am neither an adversary nor a partisan of Marxism; I question it about what it has to say about experiences that ask questions of it [Marxism].*
So, Foucault stands for the proposition that the New York Times can and must be questioned about the positions it takes, and the reasons it gives for taking these positions. Why did they not treat the African slavery in America story like the century of communism story?
---
* The Foucault Reader, Paul Rabinow, editor, Partheon Books, NY, 1984, p. 385
Published in General