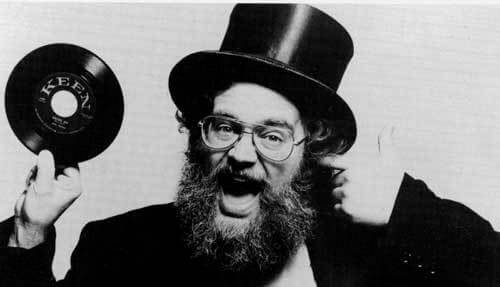 I just found out that comedian Kip Addotta passed away several days ago on August 13, 2019 at the age of 75. Addotta performed one of the all time great novelty songs – Wet Dream in 1984. The thing is it's likely I'd never have heard the tune if not for Dr. Demento. Demento, whose real name is Barry Hansen, is a life-long music fan with an advanced degree in folklore and ethnomusicology from UCLA and a taste for the absurd and the different. In the 1970's he got on the radio in Los Angeles as disc jockey focusing on novelty songs. This eventually lead to a nationally syndicated radio show which aired on Sunday nights for several decades and which is where I discovered Dr. Demento and first heard Wet Dream and many other demented tunes. In honor of Mr. Addotta, I thought I'd post a few of my favorite novelty songs, starting with Wet Dream (it's about 5 minutes long).
That was fun. Let's see…what next? How about Spike Jones? This is one of his earliest hits, Der Fuehrer's Face from 1942 (2:42).
Dr. Demento used an instrumental version of Pico and Sepulveda by Freddy Martin & his Orchestra as his opening theme music. Here's the original Pico and Sepulveda from 1947 (it's two and a half minutes in length).
I think this next song would make just about any all time top 10 list of Dr. Demento favorites. It's another oldie (from 1946) called Shaving Cream written by Benny Bell and sung by Paul Wynn (two minutes and forty-three seconds of verging on bawdiness).
Maybe I should include some more recent tunes. How about You Can't Roller Skate in a Buffalo Herd by Roger Miller. I remember hearing this song occasionally on the AM radio when I was a kid.
I think this will be my last one. Weird Al Yankovic got his first national exposure on Dr. Demento's program. One of Weird Al's first tunes was My Bologna, a parody of My Sharona by The Knack, which he recorded while still a student at Cal Poly San Luis Obispo.
That's more than enough from me. Feel free to post your favorite novelty song(s).