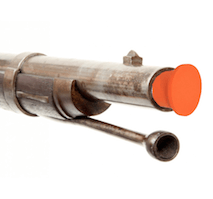 We know that President Trump relies heavily on the feedback he gets from MAGA rally crowds. If Second Amendment voters are keeping silent on gun control and just cheering at Trump's rallies, he reasonably believes he has them on his side. So it is a great shame on every gun owner who showed up at the New Hampshire Trump reelection rally unprepared, with several friends, to start chanting "Keep Your Word!" That sound of silence was reasonably taken by President Trump as confirmation that he could talk his 2016 voters into any position he takes in 2019.
He was so cocky as to say "you have no choice but to vote for me." The crowd should have chanted back "Romney, Romney, Romney, Keep Your Word, Keep Your Word, Keep Your Word." They failed to push him back onto the rails, even though rally crowds have independently raised other chants.
Want to move him back to his campaign promises? Show up in numbers and start chanting "Keep Your Word! Keep Your Word! Keep Your Word!" while waving Gun Owners for Trump signs or ball caps with very bold "#2A" on them. Otherwise, he will be swayed to the New York yankee position, while making the terrible mistake of believing he has the voters with him, because the crowds are with him.
He just needs one or two good shocks to the system with large, audible chants. Unfortunately, the next scheduled MAGA rally may be too late, September 29, after he may have already destroyed his brand, believing he could sell us anything.
There is another avenue, immediately available: women gun owners must show up this week at the Women For Trump events and join with men who are gun owners to fill the MAGA Meetup and TVLI Training events in battleground states and made perfectly clear that they will not vote for President Trump again unless he strictly keeps his promises, as written in 2015.
His Twitter feed should be filled with #KeepYourWord #2A.
He has no excuse that "things have changed." His clear, strong 2015 position was taken after: Columbine High School 1999, Virginia Tech 2007, and Sandy Hook Elementary School 2012. The Pulse Nightclub shooting was in 2016, before the Republican Convention. Yet Donald Trump did not back down on gun rights and the fraud of Democrats' "background check" bills. In that context, and with a very tough election, Donald H. Trump put his name on the following promises on Second Amendment rights:
Defend The Rights of Law-Abiding Gun Owners

GUN AND MAGAZINE BANS. Gun and magazine bans are a total failure. That's been proven every time it's been tried. Opponents of gun rights try to come up with scary sounding phrases like "assault weapons", "military-style weapons" and "high capacity magazines" to confuse people. What they're really talking about are popular semi- automatic rifles and standard magazines that are owned by tens of millions of Americans. Law-abiding people should be allowed to own the firearm of their choice. The government has no business dictating what types of firearms good, honest people are allowed to own.

BACKGROUND CHECKS. There has been a national background check system in place since 1998. Every time a person buys a gun from a federally licensed gun dealer – which is the overwhelming majority of all gun purchases – they go through a federal background check. Study after study has shown that very few criminals are stupid enough to try and pass a background check – they get their guns from friends/family members or by stealing them. So the overwhelming majority of people who go through background checks are law-abiding gun owners. When the system was created, gun owners were promised that it would be instant, accurate and fair. Unfortunately, that isn't the case today. Too many states are failing to put criminal and mental health records into the system – and it should go without saying that a system's only going to be as effective as the records that are put into it. What we need to do is fix the system we have and make it work as intended. What we don't need to do is expand a broken system.
President Trump needs immediate strong feedback, appealing directly to his "promises kept" brand, and reminding him of the terrible mistake President George H.W. Bush made in thinking he could talk his way out of breaking his "Read My Lips, No New Taxes!" promise. People like Tucker Carlson need to roll out reminders of how just threatening people with a left wing radical like Obama failed twice. They must further make the point that President Trump and his adult children really face being perp-walked if he loses. It is in Trump's absolute self-interest to strictly live by his written promises, given in 2015.
President Trump must reread and reissue, without change, his 2015 position paper. Talking about appointing two Supreme Court justices cuts no ice if he backs bad legislation. And the legislation will be bad, just like the willful failure to repeal and replace Obamacare, and the continuous bipartisan obstruction of border wall funding. It is President Trump who must make a real reform speech, based in the claims of his 2015 paper, or he risks losing reelection and seeing his beloved adult children in handcuffs.
Published in Politics