There are some causes worth speaking out about. And then there are those causes that one dare not utter a word for fear of retribution. Pope Francis and Tim Cook, the CEO of Apple, are quite sympathetic and at times vocal about certain causes – LGBTQ rights, gun violence, diversity, and climate change to name but a few — but they've both gotten noticeably quiet about two movements that have surfaced in the past year or so. One that promotes free speech and one that would crush it. One that seeks to live in freedom in one of the great success stories of enterprise and capitalism and the other that seeks to impose communist rule through a blood-soaked revolution.
Clearly, Apple has a great deal to lose if Cook speaks up about the Chinese government's moves to bring Hong Kong under a more oppressive yoke, taking direct control of Hong Kong's banking sector, and cracking down on any dissent. The financial hit to Apple would be in the billions if President-for-Life Xi Jinping became upset with a positive statement from Cook about the democracy movement in Hong Kong and ordered that factories where Apple products are manufactured be shuttered.
Cook and company would then have to scramble to find other countries, maybe even the United States, to set up their assembly lines. But perhaps Mr. Cook and his team calculated that some 7 million Hong Kong citizens aren't even worth tweeting about because Apple needs to continue to prosper, grow, and please its shareholders and President Xi.
Of course, closing factories may not resonate well throughout China and this may put pressure on Beijing to relax its control on Hong Kong. Mr. Cook and his executive team at Apple still have an opportunity to do the right thing and speak up. Even a tepid statement like President Trump's would be something. Unfortunately, to date, there are no official statements or even tweets from Mr. Cook or Apple condemning Antifa violence or praising the aspirations of the millions of inhabitants of Hong Kong to remain free.
Mr. Cook, it should be noted, is a successful capitalist with sympathies for the occasional leftist causes, like many of his Silicon Valley billionaire cohorts, and uses his position to opine on certain issues of morality. Pope Francis, on the other hand, is not a capitalist. He is actually supposed to be a moral authority, some Catholics might even say the moral authority when it comes to various thorny issues.
Sadly, this pope's record is quite troublesome — promoting prelates who he knew were sexual predators, showing fealty with the LGBTQ community in promoting behavior that is in direct opposition to Catholic teaching, constantly castigating capitalism and constraining any criticism of socialism or bloody socialist dictators like the Castros in Cuba or Maduro in Venezuela, and prattling on about climate change.
In all fairness, it should be noted that Francis did grant an audience to one Hong Kong Catholic student who implored the Pope to express his concern about the recent crackdown on dissidents. The audience lasted for ten seconds and Francis responded by simply asking the young Catholic to pray for him. So, there is that.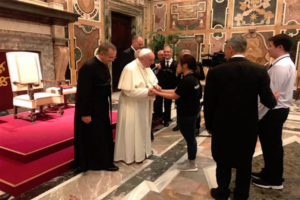 Pope Francis also has a special relationship with the Chinese Communist regime. Several years ago, he relied on now-defrocked former and rampant sexual predator Cardinal Theodore McCarrick to lay the groundwork for that special relationship which allows the communist regime to appoint men to the episcopacy. In counter-espionage parlance, these are known as agents. From LifeSiteNews:
Many Western sources agree with Mosher that Xi Jinping is ruthlessly intent on abolishing what religious freedom there is in China, and won't cede any authority to the Vatican.

"In practice, China's Communist Party is unlikely to give up control over any religion, even Catholicism, which has relatively few adherents in China," the WSJ notes.

"Chinese President Xi Jinping has launched a program to 'Sinicize' all religions to make sure they don't offer alternate viewpoints to the Communist Party."

That was echoed by Forbes contributor Olivia Enos, who pointed out religious persecution has risen notably since last October's Party congress.

"Finalizing a deal now would send the message that the Vatican is willing to turn a blind eye to Chinese threats to religious freedom—including the persecution of Catholics," wrote Enos.

The deal would also have serious implications for Taiwan, "known for respecting religious freedom," she added.

Under the One China policy, Beijing would likely require the Vatican to sever diplomatic ties with Taiwan in favor of China, leaving Taiwan bereft of its last European ally, Enos explained.
The aspirations of Hong Kong citizens aside, the Pope and the Vatican press office haven't made any statements or taken to Twitter to condemn Antifa violence. Given that it's a movement that incites violence, celebrates their bloody handiwork, and promotes the overthrow of the United States to become a communist regime, one would have hoped that Francis or others in the Curia would have had the courage to say something. Anything. Apparently, climate change and embracing the paganism of indigenous Amazonian tribes is more important at the moment.