Back in college, I worked as a theater usher and I think it was then that I began the practice of reading the credits. I would wait in the back of the theater for people to leave so I could sweep up popcorn and hope for dropped change. You have to wait for the end of the credits for two of my favorite trivia bits, the information about the music and locations. But sometimes you see something else interesting or odd. Now many wait through credits in Marvel and Pixar films for those extras, but I seat through all credits of all films I see in the theater.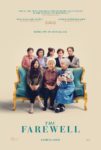 The Farewell is a very good film in theaters now (rocking 99% at Rotten Tomatoes) about a family divided. A woman's children have left China and migrated (one assumes legally) out of the country, one son to Japan and the other to America, New York City. 
The opening credits read "Based on an actual lie." When the mother is diagnosed with terminal cancer, she is not told, as we learn is commonplace in many Chinese families. Doctors go along keeping this news from the dying woman. Everyone else in the family knows, but not her. But to give the family a chance to say goodbye to their mother/grandmother, a sham wedding is planned.
It is a warm, sad, and funny film about families, and certainly is worth seeking out. (There is even a story about a church in the film that allowed me to write about it in my blog about films and clergy.)
But there is an extremely odd credit to be found if you're looking for it. A credit for "Chinese Censorship Advisor". The movie was filmed in New York and China, so it makes sense that this was a needed role. Sadly, it seems that many Hollywood films employ such a person, though they are usually not listed in the credits. Hollywood films don't mind mocking conservatives or Christians, but it is important to be careful about offending the National People's Congress.
Have you noticed special consideration given to the Communist Chinese in films? It is there. (And are there any other credit readers out there?)