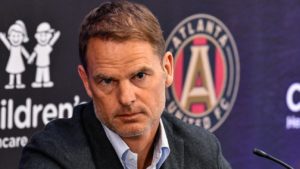 Frank DeBoer, the future former coach of Major League Soccer's Atlanta United team, recently expressed skepticism about the equal pay demands of the the US Women's soccer team. He points out that if they bring in the same number of fans, and the same amount of advertising, of course they'll be paid the same. But if their draw is different, their pay is likely to be different, and he doesn't see the problem with that. He is Dutch, so forgive the odd English in his quotes:
"I think for me, it's ridiculous. If there are watching, for the World Cup final, 500 million people or something like that, and 100 million for a women's final, that's a difference. So it's not the same. And of course they have to be paid what they deserve to [earn] and not less, just what they really deserve. If it's just as popular as the men, they will get it, because the income and the advertising will go into that. But it's not like that, so why do they have to earn the same? I think it's ridiculous. I don't understand that."
Allow me to go way out on a limb, and predict what is likely to happen, and when:
In 2-3 days, he releases a Tweet stating his regret for offending anyone.
In 4-5 days, he appears in public and offers a tearful apology for his obvious hatred of women.
In 1 week, his employer announces an internal review of Mr. DeBoer's conduct.
In 2 weeks, his employer accepts his resignation.
In 3 weeks, he and his family are chased out of an Appleby's by an angry mob of woke millenials.
In a month, he moves back to the Netherlands, hoping that they're not insane there, too.
What do you think? Am I close?
Many of those in athletics are so ingrained in the culture of performance, and earning what you get, that complaints about fairness really don't make sense to them. He probably really doesn't understand why this is such a big deal.
He's about to find out, I suspect.
Good luck, buddy…