Two conservative voices on Hong Kong yesterday, starting with Friend of Ricochet, Annika Rothstein: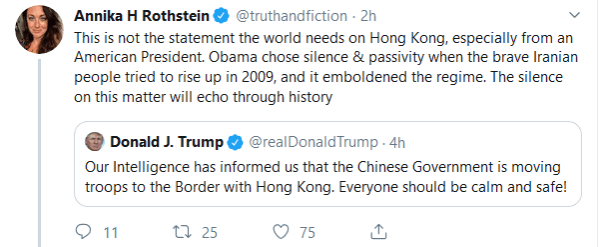 Then Josh Hammer, Editor-at-Large at The Daily Wire:

No one (to my knowledge) is suggesting boots on the ground in Hong Kong, but it really shouldn't be too much to ask POTUS to provide meaningful rhetorical and moral support to democratic protesters (literally) standing athwart Chinese Communist Party tyranny. There are likely other substantive measures we can take, too, that are short of boots on the ground. I hope to elaborate later this week.
This leads to the inevitable question? What is "meaningful rhetoric" without the will to back it up? I believe that's called "drawing a red line" like Mr. Obama did in Syria. We know how that turned out.
So, what are the "substantive measures?" Is the crowd that has invested almost four years into the arguments that tariffs and Orange Man bad ignorant of basic economics now going to suggest that we slap economic sanctions against China? American jobs and American prosperity is not worth economic gamesmanship but Hong Kong is? And possibly American military lives?
Published in Foreign Policy