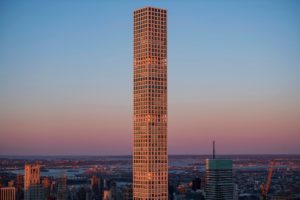 The local news had a story the other day that they teased as a "David vs. Goliath" battle. In this story, the "David" was the little guys living in $3-5 million apartments. "Goliath" was developers building $10-40 million apartments for the superrich. So, even a one-percenter can be the "little guy" when up against the 0.1%.
The issue here is new super tall, but skinny, skyscrapers being built that will block the views of those in some of the older buildings. A few years back I started to notice some of these residential towers while looking at the midtown skyline from the Jersey side. In the past, the really tall buildings were iconic ones like the Empire State Building or the Chrysler Building. These new towers have none of the styling of the older buildings and are just very thin rectangles sticking up into the sky.
The controversy here has to do with the zoning laws. There are limits to the residential square footage allowed in a building. That, however, does not include any structural or mechanical spaces. Since a 90th-floor apartment can be sold for much more than a 40th-floor unit, developers add numerous mechanical spaces to help them push the residential spaces skyward.
432 Park Avenue stands 1,400 feet tall. According to the New York Times, a large percentage of that space is designated as mechanical:
But 432 Park also has an increasingly common feature in these new towers: swaths of unoccupied space. About a quarter of its 88 floors will have no homes because they are filled with structural and mechanical equipment.
These voids allow for a taller building with penthouses in the $30 million range.
Exploiting this loophole may seem a little sleazy to some, but it is also very clever. In a bigger sense, it shows a problem that goes beyond construction and zoning laws. Laws are more complicated than they need to be and the people voting on them don't know what they are voting for. When politicians try to regulate things they don't understand, they are going to mess up.
This is true for too many issues. Politicians who call every rifle an AR-15, who don't understand the difference between automatic and semi-automatic, who judge weapons by appearance rather than firepower, they want to give us "common sense" gun laws. They give tax credits for things like solar and wind, when no one knows what form the next great innovation might take. Where else do you see regulations that don't do what they were meant to do because politicians got in their own way?
Published in General