In our preferred world, politics would revolve around intelligent argumentation, clever rhetoric, and appropriate deference would be given to facts. Unfortunately, we don't live in that world. The world we live in is more dominated by popularity and personality than it is by principle.
This reality is why Bernie Sanders is still a contender to win the Democrat Presidential nomination. How has he gotten this far? By promising his followers a bribe. The opening bid? Forgiveness of all student loan debt. But that's merely an aperitif; a foretaste of the giant enchilada Senator Bern has promised everybody in the form of free healthcare for all.
As conservatives know, however, life is infrequently a set of choices between "good" and "bad" outcomes but more frequently a choice between lesser and greater tragedies; want always exceeds supply. Surely, as addlepated as Senator Sanders seems, somewhere deep inside he and his followers must know this to be true.
You'd think that given how ambitious his plans to give away things for free are, he'd start small, just as a test … you know, to see if it works? Perhaps: From the architect of free healthcare for all comes the free t-shirt!
No?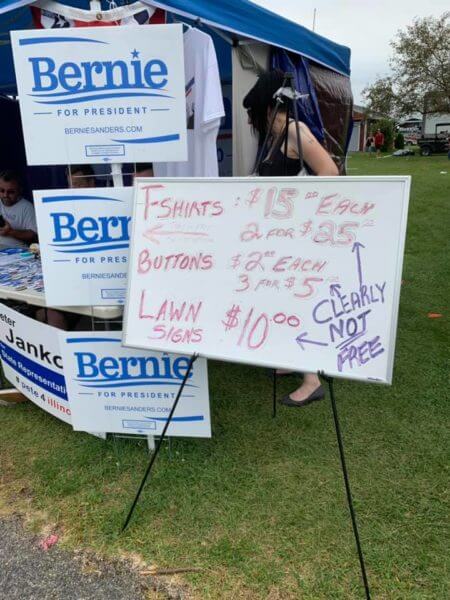 If you think that your t-shirts are expensive now, just wait until they're free.
Published in Economics