Last time we talked about how to make tiny little holes in silicon using harsh acids. Wet etching is fine and all, but sometimes you just can't make a feature small enough. You're limited by the aspect ratio. That is, how wide it is versus how tall it is. A post hole has a high aspect ratio because it's much deeper than it is wide. A strip mine is a pretty low aspect ratio hole. The difficulty with making high aspect ratio holes in your silicon is that your etchant is going to etch down, yes, but it's also going to etch towards the sides.
Before we get into dry etching there's one more trick for making an anisotropic (uh, it etches downward quicker than it goes sideways. Literally the word means not-the-same-in-all-directions.) wet etch. What happens if you do your etching with a strong base instead of a strong acid? As it turns out, and for no reason, I've managed to determine, a strong base will etch one crystal face preferentially.
What's a crystal face? Well, I'm not going to get into crystallography, it's a field which rapidly becomes complex. But recall way back when we were talking about boules and Czorchalski growth that your wafers were cut out of a single crystal of silicon. A monocrystal; if you recall your vocabulary. When you call up your wafer supplier you can specify "I want a 100 crystal". (That's pronounced "one zero zero" not "one hundred"). And KOH will etch a 100 crystal face about four hundred times faster than it'll etch a 111 crystal face. Here, let me show you.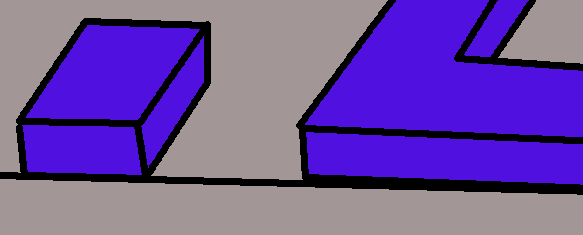 Take that as your pre-etch wafer, with a pattern already on it in the photoresist. Now dunk it in the etchant tank. This is what you'll get out: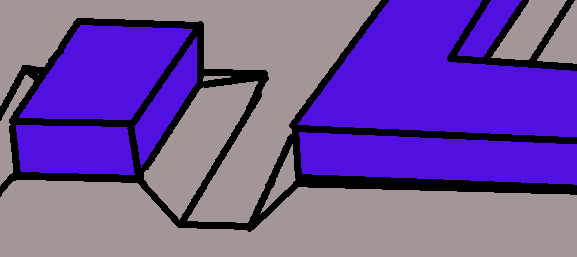 The flat plane on the top of your silicon is the 100 face. (these numbers mean something, but I'm not going to stop to explain what.) When you first start etching the silicon the chemistry greedily digs into that crystal face. But on the edges, under the photoresist, it finds a bunch of silicon atoms that don't have a 100 face showing. All the etchant can find is the 111 face, at an angle. Which means it doesn't etch very quickly. And then the deeper the etchant goes into the silicon the more durable 111 face it exposes. Which leaves those funny slope structures.
Those slopes, by the way, are at exactly 54.7 degrees. That's determined by the nature of the silicon crystal. If you dunk your crystal in etchant for a limited time you can get that canyon to a certain depth. If you leave it in the etchant for too long it'll etch those holes all the way down to a point. And if you keep leaving it in the bath it'll eventually etch that square into a pyramid. (Remember the 111 face etches much more slowly, but it still does etch some).
When we were discussing isotropic wet etching last time those chemical reactions were limited by the mixing time of the acid; as long as you can keep spraying fresh acid over the silicon you can keep the reaction running faster. With this basic etching it's limited by the speed of the chemical reaction. Which is relatively slow, but that also means you can control the final depth you get by how long you leave your wafer in your chemical bath.
Okay! Had enough yet? No? Then let's talk Plasma! Plasma is what you'd call dry etching, because it doesn't involve any chemical baths at all. You generate your plasma like I previously described with respect to sputter coaters. In that description, you'll no doubt recall, you rip an electron away from your atoms and bounce 'em back and forth until they've got a high amount of energy, then you smash 'em into a target. When you're sputter coating, you smash your ions against a target to break off atoms to coat whatever it is that you want coated. When you do plasma etching you skip a step. You smash your plasma ions directly into the target. This gives you the physical breakage from the atom hitting the material and the chemical action of a reactive ion.
The upside of the whole program is that you're working with a physical process, not a chemical one. Which means that you don't get etching branching out to the sides. Gives you a real nice aspect ratio. The trouble is that you don't get a good selectivity between the photoresist and the silicon. Often times the photoresist will etch away faster than whatever you're supposed to be etching. That's fine if you've got a thick photoresist and a thin layer to etch, but it can cause trouble.

We had a lab, back in my school days, where we were trying to etch cantilevers out of a silicon wafer. To etch the whole way through the wafer we tried thickening the photoresist (which failed), altering the process gas (which also failed), and eventually flipping the wafer and etching through the backside too. At that point, I dropped my wafer and it shattered, ending my participation in that lab.
On that subject, you can get different results with different gasses. If you use an oxygen plasma on a silicon wafer you can grow a silicon dioxide layer. If you use a fluorine plasma you can etch away that pesky oxide layer. If I recall correctly we started that lab with an oxygen plasma, and switched to tricholorofluoromethane (CCl3F). Really reactive stuff.
Continuing on the discussion of different gases, you can tell the difference between 'em by the glow. Plasma emits a glow, as you can tell by looking at any neon sign. Oxygen glows a light blue. Nitrogen glows a bright pink. If you expect to see a light blue and instead you're seeing a pinkish glow then you can tell that there's a leak in your oxygen line; it's open to the atmosphere.
At my (now former) place of employment, we use plasmas to clean our materials. Throw an oxygen plasma against copper and stainless steel and such you're going to clean off organic contamination. You'll also eat away the plastic dielectric layer if you throw too much plasma at it for too long, but that's something that you can manage by designing your process carefully.
That's it for the discussion of etching, we'll move on to ways to put things on your wafer next, starting with chemical vapor deposition. Join us fortnight next for "The heady and heavy vapors of Tungsten" or "Movie night with the CVD DVD in HD."
---
This is part 35 of my ongoing series on building a computer, the Riverside way. You may find previous parts under the tag How to Build a Computer. This week's post has been brought to you by the noble Ape Drape! It's business up front, party in the back with your Norfolk Neckwarmer, your Mullet, your Ape Drape!

[First – Silicon] [Previous – Etching] [Next]
Published in Science & Technology