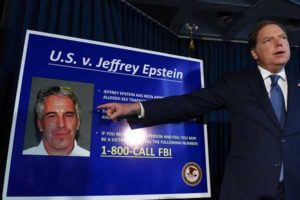 Jeffrey Epstein, the alleged sex trafficker with a who's-who list of rich, powerful friends, died Saturday. He was found in his cell at about 6:30 a.m. and authorities claim it was "suicide." Whether they made air quotes when saying that word is unknown.
Bill Clinton, former Sen. George Mitchell, former New Mexico Gov. Bill Richardson, attorney Alan Dershowitz, Britain's Prince Andrew, and many more figures from international business and politics have been connected with the reclusive financier. Thousands of pages of Epstein documents were unsealed Friday.
"Mr. Epstein's death raises serious questions that must be answered," Attorney General William Barr said. "In addition to the FBI's investigation, I have consulted with the Inspector General who is opening an investigation into the circumstances of Mr. Epstein's death."
Manhattan U.S. Attorney Geoffrey Berman called Epstein's death "disturbing" and Rep. Jackie Speier (D–CA) called for a federal investigation.
"Jeffrey Epstein was a serial child molester who evaded accountability because he was rich, powerful, and well-connected," Speier said. "His suicide doesn't change that. We need answers as to how this could have happened. Most importantly, we need justice for his victims."
In 2008, Epstein pleaded guilty in Florida to "soliciting and procuring" an underage person for "prostitution." One of the prosecutors in that case was President Trump's future secretary of labor, Alex Acosta. Public outcry forced Acosta's resignation last month.
Many Democrats have attempted to tie Trump to Epstein due to decades-old interactions, but Trump repeatedly denounced the financier many years ago and had banned him from Trump's Mar a Lago property.
The question remains how on earth a high-profile suspect like Epstein would be able to commit suicide in a heavily guarded federal facility. He was previously on suicide watch, but for some reason was recently removed from this status despite a reported previous attempt.
Not to wax conspiratorial, but does this stink to anyone else?
Published in Law