"I used to be a registered Libertarian and I have the Gary Johnson yard signs to prove it." 
Think back into the past with me, back to the dark days of April, 2016. Bernie Sanders has become the first (and I believe only) American Presidential candidate to receive an invitation to meet with the Roman Pope, Hillary Clinton is lapping up primary elections like an old dog about to die, and that joke candidate from the 2012 Presidential election, Donald J. Trump, just won't stop winning.
This was particularly annoying to a Rand Paul guy like me, who was willing perhaps to throw in with Ted Cruz if Paul wouldn't stop charging to the Center. This was my first time considering a vote for a major party in a national election, and I felt a sort of thrilled terror at the prospect.
See, I'd just burned my draft Libertarian Party membership card, and proudly filed with the County Recorder as a valued member of No Party.
Three things drove me away from the LP, a party I had supported since I was old enough to pull a lever:
First, Gary Johnson lied to me, both about what he believed and in claiming to be a Libertarian. He kept his mouth shut when he ran in 2012, basically mouthing the Standard Platitudes that guarantee ~1% of the vote. On three occasions after the election, I asked him to go into detail on his philosophy of the 2nd Amendment, and the most I ever got was, "that's an important issue and we should have a conversation about it". In 2016 he went off his leash, and became a pandering, liberal parody of Harry Browne;
Second, after voting for Libertarians in all elections for decades, I'd never seen one win;
… and Third, the jab-cross-left uppercut-cross: Donald J. Trump's first position paper on his website, an absolutist Constitutionalist interpretation of the 2nd Amendment I would have expected to find at a Tea Party rally, coupled with leaked video of a candidate for Chairman of the Libertarian Party, a nudist apparently, delivering a National Convention speech completely naked. Sure, it's his right and he may have done it on a dare, but this kind of adolescent acting out had been dragging the party down for years, and I couldn't shake the feeling that every gathering of capital-L Libertarians would basically devolve into a pantomime of a YouTube comment section.
One useful carryover from my days as a dancing naked fat man Libertarian is that I won't vote against someone, only for someone. Donald Trump's 2nd Amendment support got me to cheerfully jump on board the Trump Train. I not only bought the MAGA hat and yard signs, I bought them for all my friends too. We all went to his rallies, met his motorcade on its way back to his hotel, attended Mike Pence's rally at Living Word, and continued to support him even at the cost of mockery, theft and vandalism (all interesting stories in themselves).
Suffice it to say that as a voter who still naively clings to the ancient and obsolete idea that principle has a place in politics, I was happy in supporting Mr. Trump.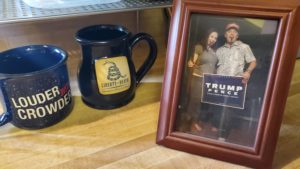 Until the bump-stock ban.
And the comments about bypassing due process (and ignoring current law barring the possession of firearms by the mentally ill).
And the disparaging remarks about suppressors.
Now, I know my President has a tendency to rattle off at the mouth without properly thinking things through, so I've been giving him the benefit of the doubt. Two of those three points had no force of law so I'll chalk it up to a basically decent man struggling to understand evil in the wake of a tragedy. However, the Ban was something else–it turned thousands of American Citizens into felons over night. I've never owned a bump stock, am unconvinced of their utility, and look at them like those fancy golf clubs that promise to turn you into Tiger Woods overnight. I would have to try real hard to care at all about bump stocks. But in signing that executive order, he gave the left and future presidents the infrastructure and precedent to start banning other accessories. It's terrible… but I gave him a pass, because he was making moves in other areas I agreed with and I was still resolved to vote for him in 2020.
Now he's pushing for "red flag" laws, setting up more infrastructure for future gun seizure attempts that Col. Brown has already gone into great detail about, and I'm actually considering what my other options might be in the coming election. Have I been hoodwinked into joining the Establishment by a New York Yankee? Sure I still support many of his other policies, but the one issue that is most important to me, my God-oradained right and responsibility to defend my life and my family with everything I can get my hands on, is under greater threat from the guy I voted for than the guy that preceded him, who I couldn't stand. Is the light at the end of the tunnel the train I'm on? Are we just going to plow over our Constitutional rights in the name of forward progress? I could use some help on this one guys.
Published in Guns