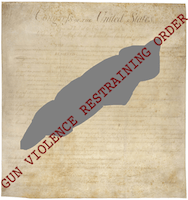 Bethany Mandel nicely laid out the virulently hateful reaction of the Democrats, at every level, to President Trump's address to the nation on the two mass murders this past weekend. She noted how the New York Times was driven by its own mob to change it's headline on the president's address. However, the change, while making the ideological lines clearer, was still fairly accurate:
The first headline read "Trump Urges Unity Vs. Racism" while the second said "Assailing Hate But Not Guns." 
Would that this were fully accurate. Sadly, the president has given life to a massive gun grab, done the way American politicians prefer. This president knows full well, by his own words, that he has been targeted by leftists wrapped in black robes. He has learned, and all of us know beyond a shadow of a doubt, that the "least dangerous branch of government" has been fully weaponized.
This weaponization starts at the trial court level, the very level at which this massive gun grab will occur. While President Trump is dealing with federal district court judges, the anticipated venue for the "gun violence restraining order" will be a state or municipal court. These are very vulnerable to local politics, facing elections or periodic appointment reviews. Further, such courts are seen as the first step to bigger and better jobs. Even if the judge is a supporter of the Constitution, she will be fearful that refusing to grant a "temporary" order exposes her to catastrophic criticism if the targeted individual actually commits some act of violence. So, on this matter, judges absolutely cannot be trusted to faithfully follow the Constitution, on aggregate.
Not only is there no real safety in the oath taken by trial court judges or in their code of judicial ethics, the contemplated legislation unleashes the mob. The mob? Yes, the mob on social media, that turned your friends and family members against you.
Remember what happened in 2016? President Trump and every Republican surely does. Remember how Facebook went from a place where you could enjoy sharing family and friendship memories and connections, to a seething cauldron of political bigotry? Remember the great wave of "unfriending?" The pattern of family members and friends from the left hatefully cutting off kith and kin, who dared to not fulsomely damn the president and his voters, is real and widespread. Everyone knows this.
Now this spiteful mob is about to be given the boot with which to really grind under heel the objects of their hate. You know that this is going to happen, and that local judges will be right on board. No problem; just add mental health experts to the mix.
Experts? Like the crew that tried to medicalize away murder as a crime, rather than mental disorder? Or the crew sequentially rewriting their diagnostic manual to impose their leftist agenda, via sexual identity politics? Do you think for one minute that the "reputable" experts will testify in favor of individuals retaining their right to effective self-defense? How is that going to work out at their next professional gathering?
Ah, but David French says it is a great idea, and so does the Heritage Foundation.The problem is that Conservatism Inc's constant compromises, their rear guard actions, with the left, are exactly what caused such revulsion as to lead to President Trump's election in 2016. If this gets rushed through and he signs it, state legislatures will have plenty of time to start the gun grabbing before the 2020 election. If it happens that way, he will have burned support without getting any credit from those who were never going to support him anyway. It will be a much harder campaign than it was going to be.
In 2016, President Trump barely won, by a relative handful of votes in traditionally blue states, in important part by women who own guns and rejected the strong call to vote in gender solidarity. He got back a piece of the old Reagan Democrat voter bloc by both his economic talk and Donald J. Trump's strong stand on the Second Amendment.
President Trump is trying to be a practical problem solver. He sees the public frustration with decades of posturing. He wants some practical actions that will make some real difference. And. He had better look extremely closely, and listen very carefully to single moms with a gun, whose families resent their deplorable, heretical vote for Donald J. Trump and against Hillary Clinton.*
[Update with key documents follows.]
Several states, like California, already have some form of the proposed law, so why a call for federal action? The truth is that it is about scratching the itch to "do something." The legislation would likely entice every state that has not gone the way of California to take some federal government cheese, money taken from the states' residents in taxes, or borrowed from the Chinese Communists, to be repaid with interest by Generation Z.
With the signal of broad national political elite support, across the first two branches of government, the Supreme Court will likely give more leeway to state legislatures and courts. Expect the Court to give a much weaker meaning to the Second Amendment, so long as the "public safety, gun violence" flag is waved. Count on Chief Justice Roberts to write that opinion with the leftists. 
Just as George H.W. Bush said "read my lips, no new taxes," Donald J. Trump made unequivocal commitments to protect the Second Amendment. It is time to review them against his remarks from the White House. 
Here are his words, in full, from the 2016 campaign, followed by his recent remarks as president [emphasis added by underline]:
Donald J. Trump on the Right to Keep and Bear Arms
The Second Amendment to our Constitution is clear. The right of the people to keep and bear Arms shall not be infringed upon. Period.
[Full text of what became the Second Amendment: A well regulated Militia, being necessary to the security of a free State, the right of the people to keep and bear Arms, shall not be infringed.]
The Second Amendment guarantees a fundamental right that belongs to all law-abiding Americans. The Constitution doesn't create that right – it ensures that the government can't take it away. Our Founding Fathers knew, and our Supreme Court has upheld, that the Second Amendment's purpose is to guarantee our right to defend ourselves and our families. This is about self-defense, plain and simple.
It's been said that the Second Amendment is America's first freedom. That's because the Right to Keep and Bear Arms protects all our other rights. We are the only country in the world that has a Second Amendment. Protecting that freedom is imperative. Here's how we will do that:
Enforce The Laws On The Books
We need to get serious about prosecuting violent criminals. The Obama administration's record on that is abysmal. Violent crime in cities like Baltimore, Chicago and many others is out of control. Drug dealers and gang members are given a slap on the wrist and turned loose on the street. This needs to stop.
Several years ago there was a tremendous program in Richmond, Virginia called Project Exile. It said that if a violent felon uses a gun to commit a crime, you will be prosecuted in federal court and go to prison for five years – no parole or early release. Obama's former Attorney General, Eric Holder, called that a "cookie cutter" program. That's ridiculous. I call that program a success. Murders committed with guns in Richmond decreased by over 60% when Project Exile was in place – in the first two years of the program alone, 350 armed felons were taken off the street.
Why does that matter to law-abiding gun owners? Because they're the ones who antigun politicians and the media blame when criminals misuse guns. We need to bring back and expand programs like Project Exile and get gang members and drug dealers off the street. When we do, crime will go down and our cities and communities will be safer places to live.
Here's another important way to fight crime – empower law-abiding gun owners to defend themselves. Law enforcement is great, they do a tremendous job, but they can't be everywhere all of the time. Our personal protection is ultimately up to us. That's why I'm a gun owner, that's why I have a concealed carry permit, and that's why tens of millions of Americans have concealed carry permits as well. It's just common sense. To make America great again, we're going to go after criminals and put the law back on the side of the law-abiding.
Fix Our Broken Mental Health System
Let's be clear about this. Our mental health system is broken. It needs to be fixed. Too many politicians have ignored this problem for too long.
All of the tragic mass murders that occurred in the past several years have something in common – there were red flags that were ignored. We can't allow that to continue. We need to expand treatment programs, because most people with mental health problems aren't violent, they just need help. But for those who are violent, a danger to themselves or others, we need to get them off the street before they can terrorize our communities. This is just common sense.
And why does this matter to law-abiding gun owners? Once again, because they get blamed by anti-gun politicians, gun control groups and the media for the acts of deranged madmen. When one of these tragedies occurs, we can count on two things: one, that opponents of gun rights will immediately exploit it to push their political agenda; and two, that none of their so-called "solutions" would have prevented the tragedy in the first place. They've even admitted it.
We need real solutions to address real problems. Not grandstanding or political agendas.
Defend The Rights of Law-Abiding Gun Owners
GUN AND MAGAZINE BANS. Gun and magazine bans are a total failure. That's been proven every time it's been tried. Opponents of gun rights try to come up with scary sounding phrases like "assault weapons", "military-style weapons" and "high capacity magazines" to confuse people. What they're really talking about are popular semiautomatic rifles and standard magazines that are owned by tens of millions of Americans. Law-abiding people should be allowed to own the firearm of their choice. The government has no business dictating what types of firearms good, honest people are allowed to own.
BACKGROUND CHECKS. There has been a national background check system in place since 1998. Every time a person buys a gun from a federally licensed gun dealer – which is the overwhelming majority of all gun purchases – they go through a federal background check. Study after study has shown that very few criminals are stupid enough to try and pass a background check – they get their guns from friends/family members or by stealing them. So the overwhelming majority of people who go through background checks are law-abiding gun owners. When the system was created, gun owners were promised that it would be instant, accurate and fair. Unfortunately, that isn't the case today. Too many states are failing to put criminal and mental health records into the system – and it should go without saying that a system's only going to be as effective as the records that are put into it. What we need to do is fix the system we have and make it work as intended. What we don't need to do is expand a broken system.
NATIONAL RIGHT TO CARRY. The right of self-defense doesn't stop at the end of your driveway. That's why I have a concealed carry permit and why tens of millions of Americans do too. That permit should be valid in all 50 states. A driver's license works in every state, so it's common sense that a concealed carry permit should work in every state. If we can do that for driving – which is a privilege, not a right – then surely we can do that for concealed carry, which is a right, not a privilege.
MILITARY BASES AND RECRUITING CENTERS. Banning our military from carrying firearms on bases and at recruiting centers is ridiculous. We train our military how to safely and responsibly use firearms, but our current policies leave them defenseless. To make America great again, we need a strong military. To have a strong military, we need to allow them to defend themselves.
---
Remarks by President Trump on the Mass Shootings in Texas and Ohio
Issued on: August 5, 2019
THE PRESIDENT: Good morning. My fellow Americans, this morning, our nation is overcome with shock, horror, and sorrow. This weekend, more than 80 people were killed or wounded in two evil attacks.
On Saturday morning, in El Paso, Texas, a wicked man went to a Walmart store, where families were shopping with their loved ones. He shot and murdered 20 people, and injured 26 others, including precious little children.
Then, in the early hours of Sunday morning in Dayton, Ohio, another twisted monster opened fire on a crowded downtown street. He murdered 9 people, including his own sister, and injured 27 others.
The First Lady and I join all Americans in praying and grieving for the victims, their families, and the survivors. We will stand by their side forever. We will never forget.
These barbaric slaughters are an assault upon our communities, an attack upon our nation, and a crime against all of humanity. We are outraged and sickened by this monstrous evil, the cruelty, the hatred, the malice, the bloodshed, and the terror. Our hearts are shattered for every family whose parents, children, husbands, and wives were ripped from their arms and their lives. America weeps for the fallen.
We are a loving nation, and our children are entitled to grow up in a just, peaceful, and loving society. Together, we lock arms to shoulder the grief, we ask God in Heaven to ease the anguish of those who suffer, and we vow to act with urgent resolve.
I want to thank the many law enforcement personnel who responded to these atrocities with the extraordinary grace and courage of American heroes.
I have spoken with Texas Governor Greg Abbott and Ohio Governor Mike DeWine, as well as Mayor Dee Margo of El Paso, Texas, and Mayor Nan Whaley of Dayton, Ohio, to express our profound sadness and unfailing support.
Today, we also send the condolences of our nation to President Obrador of Mexico, and all the people of Mexico, for the loss of their citizens in the El Paso shooting. Terrible, terrible thing.
I have also been in close contact with Attorney General Barr and FBI Director Wray. Federal authorities are on the ground, and I have directed them to provide any and all assistance required — whatever is needed.
The shooter in El Paso posted a manifesto online consumed by racist hate. In one voice, our nation must condemn racism, bigotry, and white supremacy. These sinister ideologies must be defeated. Hate has no place in America. Hatred warps the mind, ravages the heart, and devours the soul. We have asked the FBI to identify all further resources they need to investigate and disrupt hate crimes and domestic terrorism — whatever they need.
We must recognize that the Internet has provided a dangerous avenue to radicalize disturbed minds and perform demented acts. We must shine light on the dark recesses of the Internet, and stop mass murders before they start. The Internet, likewise, is used for human trafficking, illegal drug distribution, and so many other heinous crimes. The perils of the Internet and social media cannot be ignored, and they will not be ignored.
In the two decades since Columbine, our nation has watched with rising horror and dread as one mass shooting has followed another — over and over again, decade after decade.
We cannot allow ourselves to feel powerless. We can and will stop this evil contagion. In that task, we must honor the sacred memory of those we have lost by acting as one people. Open wounds cannot heal if we are divided. We must seek real, bipartisan solutions. We have to do that in a bipartisan manner. That will truly make America safer and better for all.
First, we must do a better job of identifying and acting on early warning signs. I am directing the Department of Justice to work in partisan — partnership with local, state, and federal agencies, as well as social media companies, to develop tools that can detect mass shooters before they strike.
As an example, the monster in the Parkland high school in Florida had many red flags against him, and yet nobody took decisive action. Nobody did anything. Why not?
Second, we must stop the glorification of violence in our society. This includes the gruesome and grisly video games that are now commonplace. It is too easy today for troubled youth to surround themselves with a culture that celebrates violence. We must stop or substantially reduce this, and it has to begin immediately. Cultural change is hard, but each of us can choose to build a culture that celebrates the inherent worth and dignity of every human life. That's what we have to do.
Third, we must reform our mental health laws to better identify mentally disturbed individuals who may commit acts of violence and make sure those people not only get treatment, but, when necessary, involuntary confinement. Mental illness and hatred pulls the trigger, not the gun.
Fourth, we must make sure that those judged to pose a grave risk to public safety do not have access to firearms, and that, if they do, those firearms can be taken through rapid due process. That is why I have called for red flag laws, also known as extreme risk protection orders.
Today, I am also directing the Department of Justice to propose legislation ensuring that those who commit hate crimes and mass murders face the death penalty, and that this capital punishment be delivered quickly, decisively, and without years of needless delay.
These are just a few of the areas of cooperation that we can pursue. I am open and ready to listen and discuss all ideas that will actually work and make a very big difference.
Republicans and Democrats have proven that we can join together in a bipartisan fashion to address this plague. Last year, we enacted the STOP School Violence and Fix NICS Acts into law, providing grants to improve school safety and strengthening critical background checks for firearm purchases. At my direction, the Department of Justice banned bump stocks. Last year, we prosecuted a record number of firearms offenses. But there is so much more that we have to do.
Now is the time to set destructive partisanship aside — so destructive — and find the courage to answer hatred with unity, devotion, and love. Our future is in our control. America will rise to the challenge. We will always have and we always will win. The choice is ours and ours alone. It is not up to mentally ill monsters; it is up to us.
If we are able to pass great legislation after all of these years, we will ensure that those who were attacked will not have died in vain.
May God bless the memory of those who perished in Toledo. May God protect them. May God protect all of those from Texas to Ohio. May God bless the victims and their families. May God bless America.
Thank you very much. Thank you.
---
* See Salena Zito and Brad Todd, The Great Revolt, Chapter 5, "Girl Gun Power," page 109:
The Great Revolt Survey found that the one demographic group among Rust Belt Trump voters most likely to agree with the notion that "every American has a fundamental right to self-defense, and a right to choose the home defense firearm that is best for them" is women under age forty-five.
Published in Guns