A town in Russia is reportedly being evacuated, following a massive series of explosions at a nearby ammunition storage site. The Twitter account @Liveuamap is covering it best. There was a big enough conventional explosion to generate a large mushroom cloud and blast wave in the Achinsk district of Krasnoyarsk Krai. Other video shows a series of explosions and widespread flames.
Video of spectacular shockwave from explosion at military unit in Krasnoyarsk Krai of Russia pic.twitter.com/0yeg3hIb5F

— Liveuamap (@Liveuamap) August 5, 2019
The Liveuamap, or Live Universal Awareness Map, provides geotagged information, pinning events to the map. Here is a screenshot, with the center red dot and cross marking the spot, of the map showing the Achinsk district of Krasnoyarsk Krai: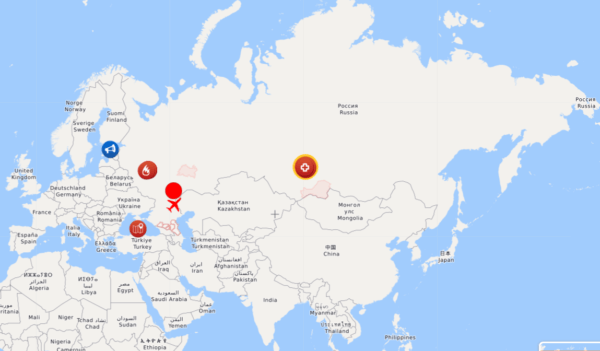 Taken together, it appears to be far more than a single bunker explosion. Rather, it appears that multiple bunkers, or lots of explosive and flammable munitions negligently stored in the open, were ignited. Since this is in Russia, we will likely never know the truth of what, precisely, happened.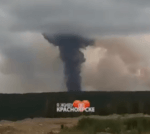 I am not an expert in ammunition storage systems, but have a basic level of understanding. Each bunker in a storage site is rated for a certain explosive potential. You are not supposed to exceed that number. Likewise, the whole system, the cluster of bunkers, is rated for a certain safe level.
It may be that the Russian military was operating within, or near, those limits. Evidence supporting that would be the survival of a group of civilians, taking video only one kilometer from the site of the explosions. 
Video from local girls basketball team that was on workout when explosions happened pic.twitter.com/f08Rqs4QfY

— Liveuamap (@Liveuamap) August 5, 2019
We also know that the town of about 100,000 nearby is being evacuated, although evacuation reports suggest close to a tenth of that number. This may be due to the threat of a massive forest fire, an issue already acknowledged by Russian authorities. It may also be due to bad stuff in the air, beyond ordinary fumes and smoke. It might even be out of a fear of some greater explosion. Again, we are unlikely to learn the truth of the matter. 
Checking the satellite images, the area circled in yellow looks the most like a proper ammunition storage area.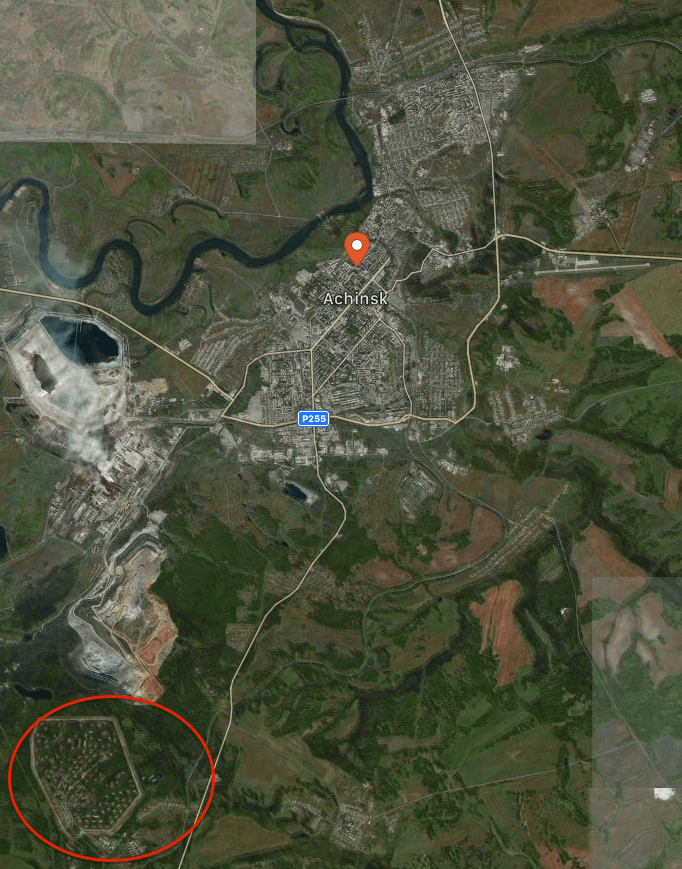 You can also see that this is an industrial town. It has both military munitions production and the JSC Achinsky Oil Refinery.
As night falls on Krasnoyarsk Krai explosions continue https://t.co/oxnaES3AE3 #Russia pic.twitter.com/1kWCMdOhGw

— Liveuamap (@Liveuamap) August 5, 2019
This is not the first such explosion in Russia this year. Here is video from RT, publishing someone's cell phone video from the moments after the blast at an explosives plant in Russia's Dzerzhinsk city.
The BBC reported on 1 June, 2019, "[a] factory explosion in the Russian city of Dzerzhinsk has injured 79 people and damaged 180 homes nearby." Russian authorities said the explosion was initiated by a technical failure in a laboratory. That is certainly plausible. 
So, now we have an explosion in a military explosive ordinance factory, and a series of explosions in a large military ammunition storage site. We've had happenstance and coincidence. If there are more such explosions, in other Russian locations, we should turn to Ian Fleming's aphorism:
"Mr Bond, they have a saying in Chicago: 'Once is happenstance. Twice is coincidence. The third time it's enemy action'."

― Ian Fleming, Goldfinger
Published in Foreign Policy