When I started college in the early 1960s, there was, in the parlance of the times, something going down: Colleges were drifting left politically, a few beatniks (who morphed into hippies) were showing up on campus, and the urban folk music scene was getting started. I remember going to a coffee shop a block off the University of Oregon campus and sitting on a bale of hay to listen to some folkies sing about how society should be rearranged.
The old-time folkies were still around, most notably the lifelong Communists (or fellow travelers, if you wish), Woody Guthrie (mostly a figurehead by now) and Pete Seeger. But a new generation of left-wing folkies, including Joan Baez and her boyfriend for a time, a scruffy kid by the name of Bob Dylan, were singing protest songs in Greenwich Village. The times they were indeed a-changing.
It was a heady time to be part of the Zeitgeist.
When Wordsworth, now something of a conservative, wrote The Prelude, he looked back on his flirtation with radicalism in his youth, especially his infatuation for the French Revolution, and exclaimed, "Bliss it was in that dawn to be alive. But to be young was very heaven."
When I read The Prelude for the first time, I knew exactly what Wordsworth meant by those words. Even now, as a longtime conservative, I look back with some measure of fondness for the folk and left-wing political scene of the sixties.
I wasn't exactly a part all of this ferment. I was a mild leftie who loved folk music. I even took up the guitar and banjo and subscribed to "Sing Out!," a small magazine which ran not only articles about folk music (Pete Seeger was a columnist), but also some left-wing stuff. To this day, acoustic folk music is still my thing. When Bob Dylan showed up with an electric guitar at the 1965 Newport Folk Festival, I wrote him out of the movement.
All this was heady stuff for a kid from a family of Okies who moved to Compton, California — and then, after a stint in the Army, moved up to Eugene to attend the University of Oregon. How could I not feel the pull of the folkie and left-wing atmosphere?
In 1964, I remember wondering how anyone could vote for Goldwater. (I'm reminded here of the apocryphal story of Pauline Kael, the film critic for the New Yorker, saying that she couldn't believe Nixon won because she didn't know anyone who voted for Nixon.)
So when it came time to pick a major, I chose English Literature, a specialty that seemed in some way associated in my mind with the left-wing and hippy movements— and about as far from my Okie roots and my dad's work in the oil fields as one could imagine.
After declaring my major, one of the first classes I took was called "Folk Literature," taught by a hip young professor who smoked in class (and sat his cigarette on end on his desk) and who would occasionally bring in his guitar and sing a folk song to illustrate some point or another. I wanted to make a living doing what that guy was doing, at least the non-singing part.
Over time, I became more and more conservative, until the riots outside the Democratic Convention in 1968 sealed the deal. I didn't want to be on the side of those who spit in the faces of the cops.
But I still look back with fondness for those days when it "was bliss to be alive." I've completely abandoned my infatuation with the political Left of those heady days, but I think there is still a touch of the hippie lingering within. I always liked the hippies better than I did the lefties.
And that's where I am today: a little bit hippie and lot of conservative.
Postscript: I may have drifted into my English Lit major almost on a whim, but it somehow worked out well. What other job would have allowed me to sit in a corner office on the top floor of Faculty Hall and, for the most part, read and drink coffee? Then go down a few floors to the classroom and talk about what I enjoyed reading, sometimes for as few as nine hours a week. Even better, I mostly dealt with people who had every reason to be nice to me. That's what I call sitting in the catbird seat.
Postscript on that last sentence within the Postscript: If that expression is beginning to get on your nerves, cut me some slack. I've been terribly fond of it ever since I met it in a James Thurber story, The Catbird Seat, about a man who is driven almost insane by his office mate, a woman who uses mysterious sayings throughout the day: "Are you tearing up the pea patch?," she asks him. "Are you hollering down the rain barrel?" she cryptically inquires. And especially, "Are you sitting in the catbird seat?" The man has no idea what any of those things mean, but they annoy him so much that he starts a plan to murder the woman who uses them. Thus far I've used the expression a number of times on Ricochet without reproof. Ricochet people are a forgiving lot.
Postscript number whatever: Some Ricocheters — you know who you are — feel shortchanged when I don't post a pic of Bob. For those of you, here is my son Alan with the Bobster.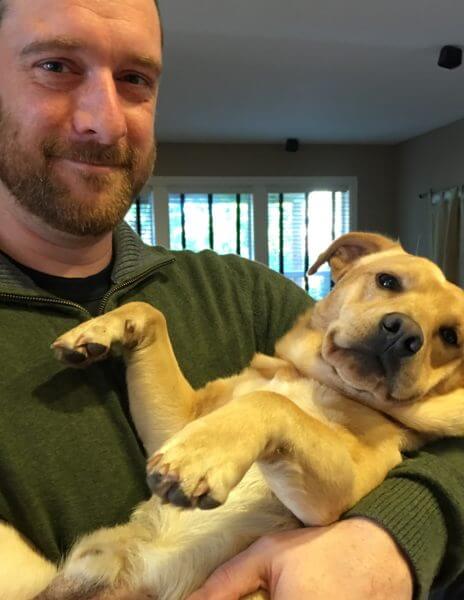 Published in General