The first account I composed, Theophilus, about all that Jesus began to do and teach, until the day when He was taken up to heaven, after He had by the Holy Spirit given orders to the apostles whom He had chosen. To these He also presented Himself alive after His suffering, by many convincing proofs, appearing to them over a period of forty days and speaking of the things concerning the kingdom of God.

Gathering them together, He commanded them not to leave Jerusalem, but to wait for what the Father had promised, "Which," He said, "you heard of from Me; for John baptized with water, but you will be baptized with the Holy Spirit not many days from now." So when they had come together, they were asking Him, saying, "Lord, is it at this time You are restoring the kingdom to Israel?" He said to them, "It is not for you to know times or epochs which the Father has fixed by His own authority; but you will receive power when the Holy Spirit has come upon you; and you shall be My witnesses both in Jerusalem, and in all Judea and Samaria, and even to the remotest part of the earth." And after He had said these things, He was lifted up while they were looking on, and a cloud received Him out of their sight.

And as they were gazing intently into the sky while He was going, behold, two men in white clothing stood beside them. They also said, "Men of Galilee, why do you stand looking into the sky? This Jesus, who has been taken up from you into heaven, will come in just the same way as you have watched Him go into heaven.⁠1 — Acts 1: 11, ESV
On the 40th day after Pascha (Easter), the Orthodox Church celebrates the Feast of the Ascension, when Jesus Christ, having completed His ministry on Earth, having been crucified and then risen from the grave on the third day, and having appeared to His disciples and taught them their final lessons, ascended bodily into Heaven, leaving the disciples to carry on His ministry and proclaim the Gospel to all nations. This is the end of the Paschal season of celebration, a final sign of Christ's divinity, and a pensive transition to Pentecost yet to come.
T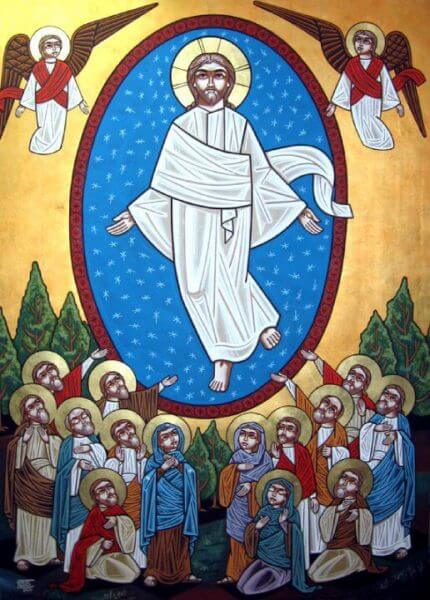 he Feast
While all three of the Synoptic Gospels (Matthew, Mark, and Luke) tell that Jesus ascended bodily into Heaven, it is The Book of Acts by St. Luke, which is a continuation of (or sequel to) the Gospel of Luke, (as Luke himself notes above in his introduction) that contains the most detailed account of the Ascension. Luke ends with a brief description of Jesus's Ascension, but Acts begins with it and elaborates on the description. It is Acts that notes the passage of 40 days and provides the details of what transpired.
Throughout the entirety of Jesus's ministry, throughout all of the miracles and teachings, Jesus was continuously trying to show His divinity to his disciples, for from that divinity also springs his authority. We need look no further than the example of paralytic of Matthew 9, where the following exchange takes place:
And they brought to Him a paralytic lying on a bed. Seeing their faith, Jesus said to the paralytic, "Take courage, son; your sins are forgiven." And some of the scribes said to themselves, "This fellow blasphemes." And Jesus knowing their thoughts said, "Why are you thinking evil in your hearts? "Which is easier, to say, 'Your sins are forgiven,' or to say, 'Get up, and walk'? "But so that you may know that the Son of Man has authority on earth to forgive sins"—then He said to the paralytic, "Get up, pick up your bed and go home." And he got up and went home. But when the crowds saw this, they were awestruck, and glorified God, who had given such authority to men.⁠2
On the journey through the liturgical year, we have seen the nativity of Mary, her own consecration to the Lord, the nativity of Jesus and his presentation, and especially walked with him and his disciples on the road to Golgotha in the journey of Great Lent. There we journeyed to the Cross, and then miraculously beyond it with the Resurrection. For 40 days afterward we then basked in that afterglow, singing "Christ is Risen! Truly He is Risen!" at every opportunity. Rising from the dead and breaking Hades were already mighty signs of Jesus's divinity and authority, but the time has now come for Him to depart, and in so doing grant one last sign. Like Elijah, Jesus ascends bodily into Heaven.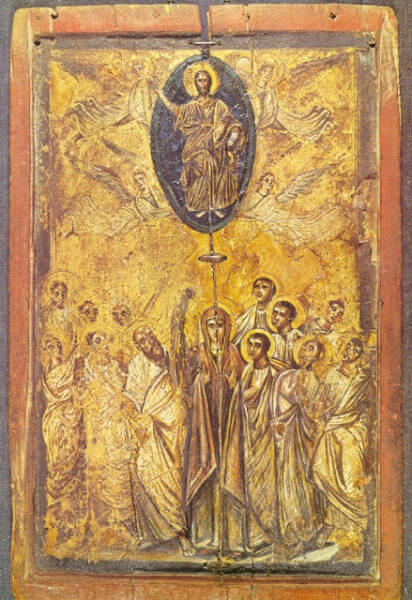 Why is this significant?
Because Jesus was, and moreover still is God and Man both. Jesus took on an actual human body, and when His ministry on Earth was complete, took that very physical body into Heaven. Our humanity, our physical beings do actually matter. In Pascha, we see that Jesus conquers physical death in the body. In the Ascension we see that physical body being retained. That very physicality of Jesus is why the Orthodox depict Jesus in icons and do not call such things "idols" — an idol is a false depiction, something that does not exist. By taking on human form, God has blessed and redeemed all of humanity.
KATHISMATA OF THE ASCENSION (Plain Reading)

As the angels, O Savior, wondered at Thy strange elevation, and the Disciples were amazed at Thy dread rising, Thou didst ascend in glory, being God, and the gates were lifted up for Thee. Wherefore, the heavenly powers were surprised, shouting, Glory to Thy condescension, O Savior; glory to Thy reign; glory to Thine Ascension, O Thou Who alone art the Lover of mankind.

Glory to the Father, and to the Son, and to the Holy Spirit.

The eternal Word before all the ages, Who took a human nature and deified it in a mystical way, today doth rise ascending. Wherefore, the angels came forth to show Him to the Disciples going to heaven in great glory. And they worshipped Him, saying, Glory to the ascending God.

Both now and ever, and unto ages of ages. Amen.

Thou didst descend from the heavens, O Christ, towards the earthly ones; and with Thee, being God, didst raise the likeness of Adam, cast into the vaults of Hades, lifting it with Thine Ascension to the heavens and making it equal in rank to Thy Father's throne; for Thou art merciful and the Lover of mankind.⁠3
This must have been an amazing sight for the disciples but at the same time, they were now bereft. Their teacher, who had spent the last three years revealing who he was, was now gone. But in another ten days, another miracle will occur.
T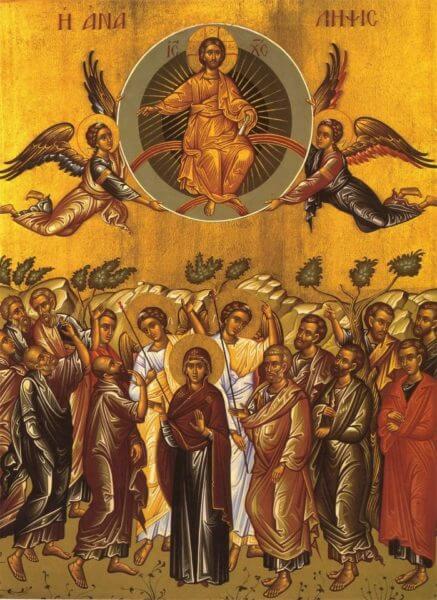 he Icon
The icons of The Ascension nearly all follow the same patterns. Jesus, shown radiant in white and surrounded in glorious light, is carried aloft by angel while the disciples below look on in wonder and fear (they may also have angels in their midst). But notice Mary: she is calm, and may even be looking out at you as she spreads her arms in prayer, or gestures above her. Alone of all, she seems serene, for she has been with Christ all along, and doubtless at this point possesses a confidence not yet shared with the disciples (soon to be apostles) below.
---
Footnotes
1 Holy Bible: New American Standard Bible (NASB) (Kindle Locations 34661-34674). The Lockman Foundation. Kindle Edition.
2 Holy Bible: New American Standard Bible (NASB) (Kindle Locations 30708-30715). The Lockman Foundation. Kindle Edition.
3 www.antiochian.org, the Orthros for the Ascension
Published in Religion & Philosophy