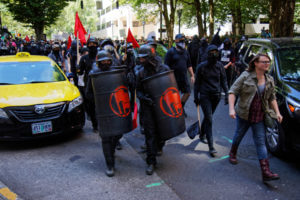 Last week, Republican Congressman Jim Banks responded to the Antifa violence in Portland with the following tweet:
In light of events this weekend in Portland, Oregon, I call on @POTUS, @TheJusticeDept, & @FBI to investigate #Antifa & declare them a domestic terrorist organization. Their avowal of violence & routine intimidation, harassment, & assault of Americans has no place in our country.
At first, my response was a firm, "Yes!" I couldn't help wondering why Antifa had not been designated a domestic terrorist organization. Didn't they fit all the criteria? But as I researched domestic terrorism, and Antifa in particular, I realized that the domestic terrorist label was not going to end the violent protests, for a number of reasons.
First, Antifa appears to have sufficient funding to keep it active indefinitely; George Soros, for one, has been a funder. I realized that even if Antifa were banned as a domestic terrorist organization, it would probably just resurface under another name with a new logo. We might even think of it as a nasty, toxic weed that we simply can't get rid of.
Another problem is that the media is claiming that Antifa has already been designated a domestic terrorist organization; this claim is simply untrue. Politico wrote the original story and others picked it up, stating the following:
Federal authorities have been warning state and local officials since early 2016 that leftist extremists known as 'antifa' had become increasingly confrontational and dangerous, so much so that the Department of Homeland Security formally classified their activities as 'domestic terrorist violence,' according to interviews and confidential law enforcement documents obtained by POLITICO.
Please note that DHS labelled Antifa activities as "domestic terrorist violence," but did not designate it as a domestic terrorist organization; there is a difference in terms of application of resources.
No one denies that their actions fit the bill according to the criteria of the Patriot Act:
(A) involve acts dangerous to human life that are a violation of the criminal laws of the United States or of any State; (B) appear to be intended – (i) to intimidate or coerce a civilian population; (ii) to influence the policy of a government by intimidation or coercion; or (iii) to affect the conduct of a government by mass destruction, assassination, or kidnapping; and (C) occur primarily within the territorial jurisdiction of the United States.
That sounds about right to me. Unfortunately, because they are a domestic group without foreign ties, and they haven't killed anyone yet, they are protected by the First Amendment.
Another problem with designating them a terrorist group is that the resources we use for security for foreign terrorism would need to be shifted to the U.S. Andrew McCarthy wrote an excellent article explaining why that might not be the best idea. He explains that domestic terrorist acts have not been criminalized as such, nor is there even a process in place to do so. He also points out the following mindset:
The designation of foreign terrorist organizations exploits the fact that their operatives do not have the same degree of constitutional protection as American citizens. Much as we revile domestic terrorists, we do not want Americans — citizens, presumed innocent, fully protected by the Constitution — treated the same way, particularly when they are easily investigated, infiltrated, prosecuted, and imprisoned under domestic law, primarily state law.
At first glance we might ask whether we care about the Constitutional rights of Antifa. But McCarthy made this salient point:
Someday, maybe sooner than we'd like to think, Democrats are going to be in power again. Do we really want to give them enhanced federal powers to harass ideological opponents under the guise of 'designating' domestic terrorist threats?
Portland, OR is the latest high-profile attack of Antifa on June 29, 2019. Andy Ngo, a reporter for Quillette, suffered several injuries, including a brain bleed which has led to his difficulty in speaking and remembering words, as well as other difficulties. To date, no one has been arrested from that protest. The Portland Police Association called out the Mayor to take action: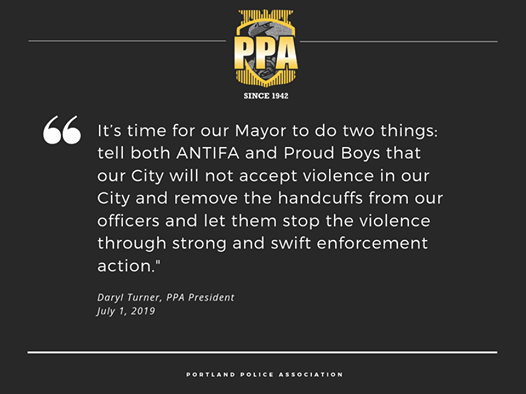 So is Antifa free to attack whomever, wherever they wish? Do we have to tolerate the violent acts that they perpetrate?
The emphatic answer is "NO!"
We must demand that local and state law enforcement crack down on these violent groups. They can no longer turn their heads, make excuses for them, or stand and watch Antifa or any other violent groups attacking our citizenry. Certainly, the federal government can provide assistance that falls into its purview, but it is outrageous that we are expected to accept these activities as demonstrations of free speech.
I'd like to hear your ideas about steps that could be taken to wake up the local and state governments to the dangers of letting these people run free. For one, throwing them in jail is key. Using tear gas and other means to discourage these people from attacking others should also be used. We must do something, and soon.
Otherwise, more people are going to die.