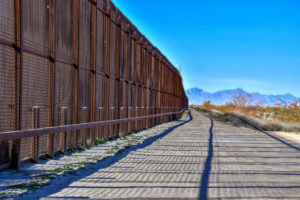 Real walls matter, so long as they are observed and backed by effective enforcement of boundary rules. This is true for the most modest private property and for the most powerful nation. We have seen several encouraging developments in American national sovereignty and regional security in the past week or so. These developments ranged from at least a temporary green light for border wall construction, to an important power in the hemisphere declaring Hezbollah a terrorist group.
Most recently, the U.S. Supreme Court granted the government, President Trump's administration, relief from the lawfare of another black robed leftist in the 9th Circuit. The very short 5-4 decision was largely on a technicality, choosing to rule that the plaintiffs likely lacked standing. Doing so keeps arguments on the merits alive for the 9th Circuit appellate panel, thus letting the Supreme Court consider both fact and law in light of a more fully developed court record.
Justice Breyer did not join in the majority, yet raised a telling point, supportive of President Trump's position:
If we instead deny the stay, however, it is the Government that may be irreparably harmed. The Government has represented that, if it is unable to finalize the contracts by September 30, then the funds at issue will be returned to the Treasury and the injunction will have operated, in effect, as a final judgment. Respondents suggest a court could still award the Government relief after an appropriation lapses, though that proposition has yet to be endorsed by this Court.

But there is a straightforward way to avoid harm to both the Government and respondents while allowing the litigation to proceed. Allowing the Government to finalize the contracts at issue, but not to begin construction, would alleviate the most pressing harm claimed by the Government without risking irreparable harm to respondents. Respondents do not suggest that they will be harmed by finalization of the contracts alone, and there is reason to believe they would not be.
Read that first paragraph carefully. Justice Breyer is giving away the lawfare game: run the court clock out until this or another case become moot, overcome by events. Of course, the second paragraph quoted is a bit of fantasy. Who can afford the expense of bidding on a federal government contract when the funding is tied up in litigation? So, if Chief Justice Roberts was being extra devious, he could have joined Breyer and the other leftists in this fundamentally dishonest maneuver, as he did with the Census. The good news is that Roberts did not do so.
So what? So, Texas Lieutenant Governor Dan Patrick appeared on the Lou Dobbs Show to say the funds now available could secure the Texas border from Brownsville, the Gulf Coast, to Falcon Lake, a point on the Rio Grande after which the terrain becomes unfavorable to smugglers.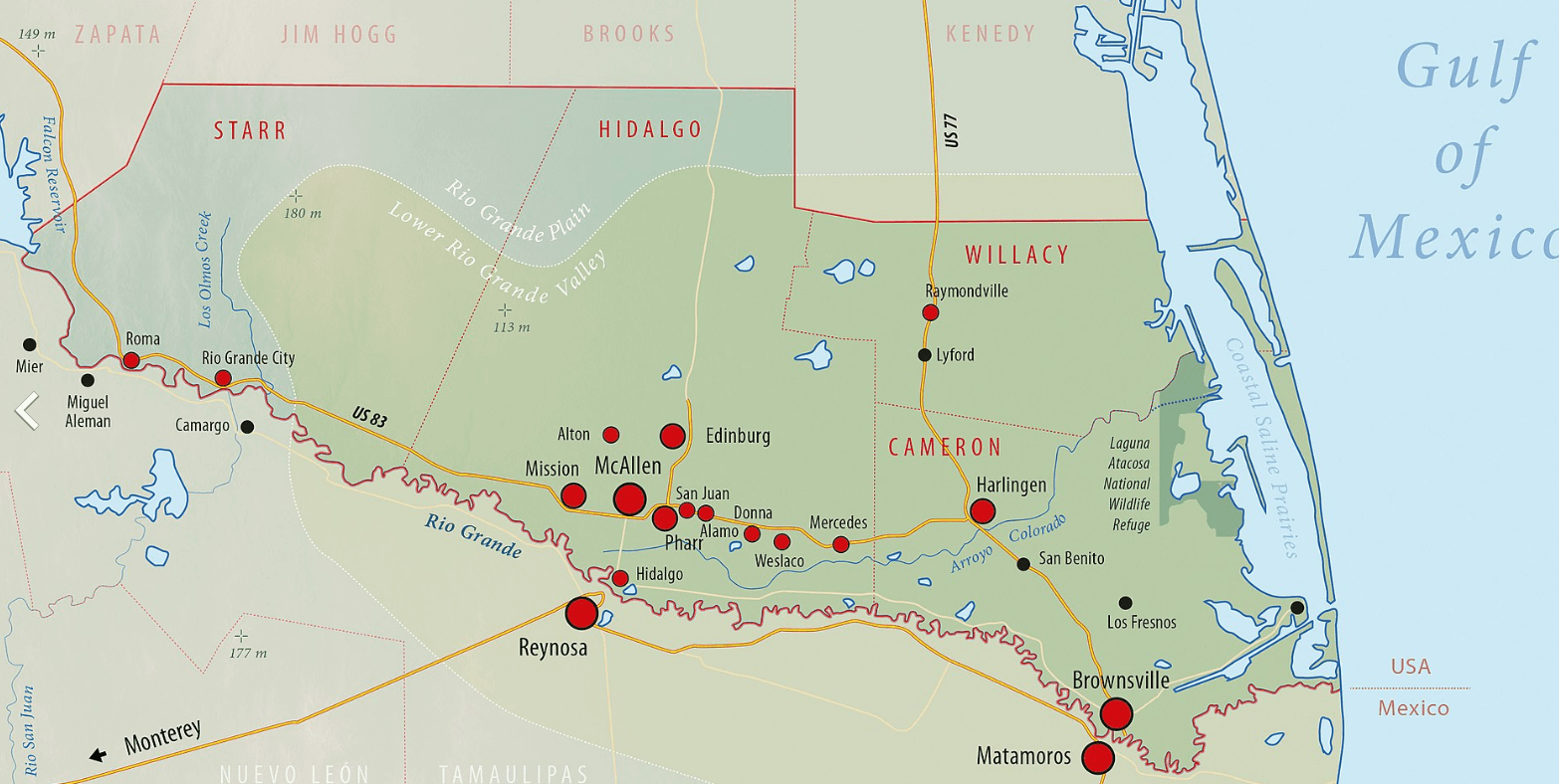 Both sides of the political struggle recognize the importance of "the wall." This is why we would get a report saying not a single new mile of wall has been constructed. This is why the President would immediately punch back on that claim as "fake news." The ugly truth is that this president has had to clean up the deceptions and outright lies of Congresses and the past two presidents. The original "wall" authorization came in the aftermath of the terrorist attacks on our soil on 9/11.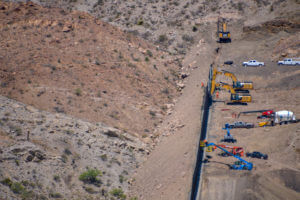 Yet, just as quickly as Congress and President Bush waved this sensible measure in front of Americans' eyes, a Republican Senator, from Texas, Kay Bailey Hutchison, led a successful effort to gut the authorization, by removing any requirement to actually appropriate a dime. That has been the scheme followed by Republicans in Congress ever since, posturing for "border security" while ensuring that real security, that would inconvenience their paymasters at the Chamber of Commerce, is never really funded.
As a result, we never got more than the political theater of "wall" that was merely hunks of concrete or steel, only designed to stop full-sized vehicles, or stretches of fence, long since cut or knocked down by a torrent of traffickers and their cargoes. These areas of "border wall" were the easiest to "fix," really to completely replace. President Trump spoke this plain truth this past week and then laid out what real wall construction looks like: digging seven feet down to pour concrete footings anchoring sturdy steel slats, providing a real obstacle with observation.
With this signal of real intent to actually slow the flow of persons and materiel across the U.S.-Mexico border, and with the full weight of economic tools within the president's hands, Guatemala come to the table and came to the White House to sign a diplomatic agreement, cutting off the false claims of "refuge" by offering refuge in their country. Add the Mexican Army going to both borders in response to President Trump's intense economic pressure, reducing the migrant flow significantly over the past two months.
The Guatemalan agreement works around the corrupt court rulings intended to sweep our constitutional republic away with an unending river of "migrants" and "refugees," the left importing its army of the proletariat when it failed to materialize from our own working class. The new agreement arose out of the president's exercise of his clearest, strongest powers. Once again, President Trump is simply doing what politicians have postured around for many years.
The Guatemalan agreement even appears to deal with the latest fraudulent nationwide injunction by a left coast "democratic" socialist cadre member. Not surprisingly, since the Supreme Court has refused to discipline lawless leftists on the bench with judicial sanctions, a leftist cadre member, operating under false color of law, issued a fraudulent nationwide injunction against President Trump's plainly lawful change to sanctuary processing rules. This leftist, with the rest of the subversives on the bench, sought to keep the floodgates open, continuing to overwhelm our legal immigration system. As the White House Press Secretary stated [emphasis and link added]:
Yesterday evening, a single district judge in California, based on a complaint filed by a few activist groups with no legal standing, issued a nationwide injunction against a lawful and necessary rule that discourages abuse of our asylum system – and did so despite a ruling from another Federal judge earlier in the day rejecting the same request by other plaintiffs and suggesting that the Government was likely to prevail against challenges to the rule. Congress authorized the Department of Justice and Department of Homeland Security to establish categorical limitations on eligibility for asylum, and this rule properly used that authority to encourage migrants to seek asylum in other countries they have traveled through before reaching the United States. The tyranny of a dysfunctional system that permits plaintiffs to forum shop in order to find a single district judge who will purport to dictate immigration policy to the entire Nation – even in the face of a contrary ruling by another Federal court – must come to an end. We intend to pursue all available options to address this meritless ruling and to defend this Nation's borders.
The option most in President Trump's control was to get a written agreement with Guatemala, placing all those who come from Guatemala or further south squarely inside the black letter of the law, even as asserted by the leftists. Since there is now a formal agreement by this third party country to offer refugee status, bypassing their system to get to our social welfare system can result in automatic, immediate rejection. As President Trump commented:
I'm thrilled to be with a very important man in Guatemala, the Minister Enrique Degenhart. And we are doing a very important signing. It's a historic asylum, or safe third, agreement between our two countries. A very important event.

We've long been working with Guatemala, and now we can do it the right way. It's going to be terrific for them and terrific for the United States.

This landmark agreement will put the coyotes and the smugglers out of business. These are bad people. These are very, very bad, sick, deranged people who make a lot of money off other people's miseries. It's going to provide safety for legitimate asylum-seekers, and stop asylum fraud and abuses system.
This does not end the nearly one million, mostly fraudulent, immigration hearings backlog. It may significantly slow the inflow. Increasing outflow will take things like the new pressure on "sanctuary cities," finally cleared by an appellate panel of the 9th Circuit. It will also take much more real enforcement against aliens who have committed additional crimes here. This was promised, but has not materialized.
Finally, consider the original wall authorization. This was in grudging recognition that terrorists work with cartels from time to time, and could exploit our porous southern border to bring in personnel and very bad stuff for future attacks on our soil. With that in mind, consider Argentina's declaration that Hezbollah is a terrorist group.
[Designating Hezbollah a foreign terrorist organization] is just one of a series of actions that the Macri administration has been quietly working on during the past six months to add new tools to combat the convergence of international terrorism with transnational organized crime. This project includes a national registry, known as the Registro Nacional de Personas y Organizaciones Sospechosas de Terrorismo or RENAPOST in its Spanish acronym, of individuals and organizations suspected of having ties to terrorism. Apart from this registry, a joint declaration is expected to be announced: the relaunch of the Tripartite Command of the Tri-Border Area, previously known as the 3+1 Group, between Argentina, Brazil, Paraguay, and the United States (the "+1").

[…] For some in Latin America, Hezbollah is seen as a counterfeiter; for others, they appear more as money-launderers and drug traffickers, and there are still others who consider Hezbollah simply a Lebanese political party and social movement.

Hezbollah may be all of the above, but this does not take away from the fact that Lebanon's "Party of God" is first and foremost the primary terrorist proxy of the Islamic Republic of Iran.
Secretary of State Pompeo met with the representatives of multiple countries in the region, including Argentina, a week ago.
Pompeo, who was joined by several ministers from Latin American nations on Friday for talks on counterterrorism, said "solidarity" between countries is the "antidote" to the threat of terror.

Pompeo said his four-day Latin American trip was part of a "concerted effort to re-engage with our partners in the hemisphere" as terrorist groups "continue to seek a lasting presence in our hemisphere."
Enforcing our border, stopping masses of people inviting themselves in, putting pressure on criminals and their organizations both here and abroad, and elevating the focus on one of the best organized and resourced terrorist groups, all amount to providing real homeland security in depth. This is in marked contrast to at least the past two administrations' actions and inaction.
Published in Foreign Policy