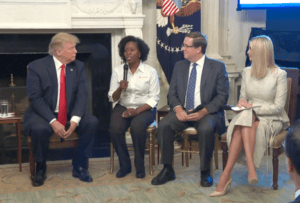 President Trump hosted another event at the White House to highlight job training and opportunities, together with the claim that companies do well by doing good. This was a different set up than most past events. Instead of people standing around him and people being called to walk up to a microphone, President Trump sat in a group circle. His eldest daughter, Ivanka, was the lead presenter, but the real focus was on people who have long been discounted.
The president sat next to a military veteran, an African-American woman. She told about the military giving her job and life skills and now Toyota, in America, opening doors and challenging her to increased responsibility, to advancement through the skilled labor ranks. She sat next to a suit, a Toyota executive, representing one of many corporate leaderships who President Trump has alternately praised and browbeaten on behalf of American workers, "forgotten no more."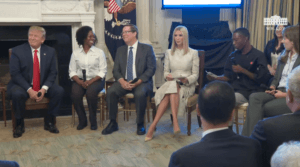 A slender young man, also African-American, then spoke of how he had not always made the right choices but had a praying grandmother. Now he was advancing up through the kitchen ranks, thanks to training on both job and life skills: "I've been promoted twice in the past 6 months. This young man appeared in his employer's livery: the kitchen or hospitality untucked tunic shirts we've all seen and khakis. From his speaking, from a folded piece of paper to his dress and bearing, he gave credence to his words.
These first two workers to speak made the point, by their presence, about the connection between President Trump and the historically high employment rate for African Americans. Other workers talked about real retraining and re-employment after the semi-conductor, computer chip, industries went offshore. The point driven home was that talking about "initiatives" and waving hands over an issue from a lectern was not cutting it. Real results, with workers speaking about their own stories, are now the standard. America's workers are "forgotten no more," as a president uses the bully pulpit to help companies see their way, as good corporate citizens, to "Be Best."
The one year anniversary of the Pledge to America's Workers puts more meat on the bones of President Trump's inaugural address:
What truly matters is not which party controls our government, but whether our government is controlled by the people.

January 20th 2017 will be remembered as the day the people became the rulers of this nation again.

The forgotten men and women of our country will be forgotten no longer.

[…]

We will bring back our jobs. We will bring back our borders. We will bring back our wealth. And we will bring back our dreams.

[…]

We will get our people off of welfare and back to work – rebuilding our country with American hands and American labor.

[…]

It is time to remember that old wisdom our soldiers will never forget: That whether we are black or brown or white, we all bleed the same red blood of patriots, we all enjoy the same glorious freedoms, and we all salute the same great American Flag.

And whether a child is born in the urban sprawl of Detroit or the windswept plains of Nebraska, they look up at the same night sky, they fill their heart with the same dreams and they are infused with the breath of life by the same almighty Creator.

So to all Americans, in every city near and far, small and large, from mountain to mountain, and from ocean to ocean, hear these words:

You will never be ignored again.
This event on Thursday, July 25, 2019, marked the one year anniversary of President Trump's Pledge To America's Workers campaign [emphasis added]:
Executive Order Establishing the President's National Council for the American Worker

Issued on: July 19, 2018

By the authority vested in me as President by the Constitution and the laws of the United States of America, and in order to provide a coordinated process for developing a national strategy to ensure that America's students and workers have access to affordable, relevant, and innovative education and job training that will equip them to compete and win in the global economy, and for monitoring the implementation of that strategy, it is hereby ordered as follows:

Section 1. Purpose. Our Nation is facing a skills crisis. There are currently more than 6.7 million unfilled jobs in the United States, and American workers, who are our country's most valuable resource, need the skills training to fill them. At the same time, the economy is changing at a rapid pace because of the technology, automation, and artificial intelligence that is shaping many industries, from manufacturing to healthcare to retail. For too long, our country's education and job training programs have prepared Americans for the economy of the past. The rapidly changing digital economy requires the United States to view education and training as encompassing more than a single period of time in a traditional classroom. We need to prepare Americans for the 21st century economy and the emerging industries of the future. We must foster an environment of lifelong learning and skills-based training, and cultivate a demand-driven approach to workforce development. My Administration will champion effective, results-driven education and training so that American students and workers can obtain the skills they need to succeed in the jobs of today and of the future.

Sec. 2. Policy. It shall be the policy of the executive branch to work with private employers, educational institutions, labor unions, other non-profit organizations, and State, territorial, tribal, and local governments to update and reshape our education and job training landscape so that it better meets the needs of American students, workers, and businesses.

Sec. 3. Establishment and Composition of the President's National Council for the American Worker. (a) There is hereby established the President's National Council for the American Worker (Council), co-chaired by the Secretary of Commerce, the Secretary of Labor, the Assistant to the President for Domestic Policy, and the Advisor to the President overseeing the Office of Economic Initiatives (Co-Chairs).

[…]