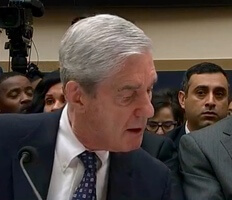 "That's outside my purview." —Mueller's apparent prepared answer to every Republican question pointing out his blatant bias, through selective investigation and selective citation.
Offer your own favorite one-liner, be it gem or cow patty, in the comments. Mueller really does not seem on top of his game.
Here is the Fox Business live stream:
Here is the C-SPAN link for Mueller before the House Judiciary Committee. This is a two ring circus, so C-SPAN will also carry the House Intelligence Committee Mueller show later in the day. C-SPAN not only avoids all the network spin, painted around the sides of the screen, it also quickly produces a transcript, which is usually very close to all the exact words.
---
[UPDATE]
Shortly after the performance ended, President Trump walked out and addressed the American people through the media:
He is still standing because he fights.
Here is an afternoon roll-up of one sentence summaries, taken from the comments:
Short takes:
"Dave's not here, man."
"There was no predicate".
"James Comey said so."
"I don't recall."
"Can you repeat the question?"
"I don't want to speculate."
"Can I have that citation?" (Right after hearing the citation.)
"I can't answer that."
"I'm not going to get into that." (Of course not.)
Longer one sentence summaries:
I'm starting to get the sense that Mueller didn't write or read his own report, and didn't write or read his own letters.
Hate to say it, but he seems like a fumbling old man at times.
This might not be the original Mueller but his imperfect duplicate, "Bizarro Mueller."
What's clear here is that Robert Mueller was a figurehead.
If it weren't for his enabling of the dragging of our country through this mess for 2+ years, and presiding over a report with enough ambiguity to allow the dragging to continue, I would feel sorry for him.
Mueller couldn't orchestrate a witch hunt because Mueller couldn't orchestrate an Easter egg hunt.
Published in Politics