Ilhan Omar, a supporter of the Boycott, Divest and Sanction movement, has decided that the government needs to protect its citizens—from our government. House Resolution 496, passed last week, claimed that the government was going to stop citizens from boycotting! In fact, it states as much: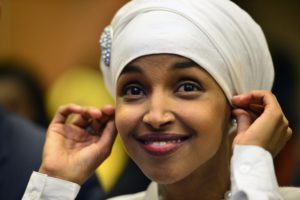 Whereas despite this tradition, governments and nongovernmental organizations alike have sought to criminalize, stigmatize, and delegitimize the use of boycotts in an attempt to stifle constitutionally protected political expression . . .
The language is quite odd, since I know of no government organization that has tried to "criminalize" boycotts, although there has been much promotion of stigmatizing and delegitimizing boycotts, specifically against Israel. The last I heard, those actions all fall under the free speech amendment.
The resolution also states that the House–
(1) affirms that all Americans have the right to participate in boycotts in pursuit of civil and human rights at home and abroad, as protected by the First Amendment to the Constitution;

(2) opposes unconstitutional legislative efforts to limit the use of boycotts to further civil rights at home and abroad; and

(3) urges Congress, States, and civil rights leaders from all communities to endeavor to preserve the freedom of advocacy for all by opposing antiboycott resolutions and legislation.
Let's parse these statements to clarify their meaning. First, Americans don't need a resolution to be able to boycott anything, anywhere, as long as they aren't breaking the law. There are no efforts to limit boycotts, although the government and many agencies are discouraging them; the degree to which universities may want to limit BDS activities is up to the universities, not the government. In reality, Omar was trying to stop resolutions that would discourage boycotts against Israel.
Ironically (maybe) The House Foreign Affairs Committee passed an anti-Boycott, Divestment and Sanctions (BDS) resolution unanimously on July 17 (two days before Omar's resolution).
(1) opposes the Global Boycott, Divestment, and Sanctions Movement (BDS Movement) targeting Israel, including efforts to target United States companies that are engaged in commercial activities that are legal under United States law, and all efforts to delegitimize the State of Israel;

(2) affirms that the Global Boycott, Divestment, and Sanctions Movement undermines the possibility for a negotiated solution to the Israeli-Palestinian conflict by demanding concessions of one party alone and encouraging the Palestinians to reject negotiations in favor of international pressure;

(3) urges Israelis and Palestinians to return to direct negotiations as the only way to achieve an end to the Israeli-Palestinian conflict;

(4) supports the full implementation of the United States-Israel Strategic Partnership Act of 2014 (Public Law 113-296); 128 Stat. 4075) and new efforts to enhance government-wide, coordinated United States-Israel scientific and technological cooperation in civilian areas, such as with respect to energy, water, agriculture, alternative fuel technology, civilian space technology, and security, in order to counter the effects of actions to boycott, divest from, or sanction Israel; and

(5) reaffirms its strong support for a negotiated solution to the Israeli-Palestinian conflict resulting in two states—a democratic Jewish State of Israel, and a viable, democratic Palestinian state—living side-by-side in peace, security, and mutual recognition.
So the Resolution for the anti-BDS Movement discourages not only boycotting Israel, but it states that resolutions to the Palestinian-Israeli problem might be hampered by this movement. Clearly Omar objects to it because it supports Israel, and her goal is to do whatever is in her power to harm Israel and the Jewish people.
Omar's positions are disingenuous and misleading. The government is not delegitimizing boycotts—it is discouraging boycotts against Israel. The government is not threatening to take away the right to boycott anyone; it is not threatening to limit boycotting, although there was discussion about making it difficult for companies to boycott Israel, but it wasn't pursued; the government isn't threatening to take away the right to advocacy.
To back up Omar's point that the U.S. has boycotted in the past, the resolution listed other times when the government boycotted governments, such as Germany or Japan. I don't think I would equate boycotting Germany and Japan (a legitimate strategy in a time of war) with boycotting Israel (which is done to destroy a peaceful country).
So at best, Ilhan Omar is making up false arguments; at worst, she is simply lying to continue to pursue her anti-Semitic actions and rhetoric. If you need a reminder of all the comments she has made against Israel and the Jews, go here .
Omar's actions and words are dangerous on multiple levels. First, she is trying to de-legitimize the actions of our government and accusing it of taking "unconstitutional" actions against our citizens. Second, she continues to try to damage the U.S. relationship with Israel; I've no doubt that she would like to sever the relationship completely and for the U.S. to treat the Palestinians differently. Third, she is trying to legitimize the BDS Movement as another way to harm Israel and the Jews.
Ultimately my concern is that Ilhan Omar continues to promote the perception that Israel is not legitimate and by association, neither are the Jews; there are plenty of other countries that agree with her. In these times, I don't take our support for Israel for granted.
It's also clear that her fellow Representatives aren't going to stop her.
Published in Politics